You know when you're out shopping and you see some cute ring or bracelet and think to yourself, "hmmm… I could make that if I wanted to". I don't know about you, but in my life, one of two things happen. The most likely is that I don't ever actually make it. The second is that if I do make some attempt, I quickly realize it takes a lot more time and effort than I thought. Not to mention the materials required can be expensive and quality pieces are hard to find!
People often make the mistake of assuming that homemade is the easier, or even cheaper way to go. People also falsely believe that when they buy things from independent jewelers they will come away expecting to pay less than you would in a larger retail store. What they don't realize is that even if the prices aren't dirt cheap, they are still getting an incredible deal!
Quality over Quantity
Handcrafted jewelry is a rarity these days and if you think you will come across it in a large retail chain, you should think again. Most retailers supply their stores with what we call costume jewelry. It is mass-produced out of less valuable materials that keep the cost almost as low as the quality. I'm sure I'm not the only one who has gone home with a cute + trendy necklace for $20, then found it falling apart a few short weeks later. With the onslaught of beautiful handcrafted pieces appearing every day on iCraft, it got me thinking. What would I rather have – five broken pieces of junk, or one amazing necklace that defines a dress?
Let's get excited for the latter! Throw those bejeweled hands up in the air and wave 'em around like you DO care!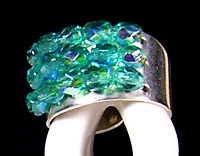 Sophisticated Edge

All right, with all this excitement and enthusiasm brimming for hot new accessories, let's take a look at some of my early favourites. iCraft creator Josie Tecson caught my eye right away with her funky and urban collection of rings, necklaces and earrings. Not only are her pieces stunning and original, they are incredibly affordable! This Beveled Mini Ring has sexy earth toned gems that give it a warm and feminine appeal. I also love her sweet and simple Harmony Sweetheart Pendant Chain Necklace, which would complement many outfits from day to night.

The "Femmedetails collection by Alegra" has another one of my favourite rings – a sterling silver band with beautiful ocean coloured Czech glass called the Murano ring.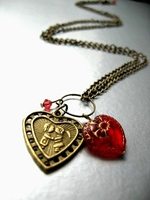 Traditions with a Twist
Another jeweler's work I am drawn to is iCraft creator "Curly Sue". Her shop is filled with modern spins on traditional looking pieces, such as this gorgeously sweet heart charm necklace called Kowloon Kiss made of Czech glass, a Swarovski Crystal and bronze. Her green aventurine, coral and cinnabar necklace "Claudia" is also really cool, and it captures that hip bohemian look so popular with young Hollywood celebs today.
Mikiye Creations is another amazing shop of lovely jewelry, my favourite being this versatile and elegant Pink Square necklace. Its soft prettiness would add charm to a simple dress or even a white tank and jeans.
These beautiful Faceted Coral Earrings by Natalie's Designs add a modern edge to the traditional drop earrings that would look fantastic with just about anything.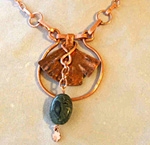 Showstoppers

The moxie of iCrafter "Stubborn Woman" is instantly endearing, as is her exquisitely lovely Copper Ginko Leaf Necklace with Kambaba Jasper. This necklace would be an amazing gift for any woman, whether she's in her 20s or her 60s. That kind of wide appeal is rare, but this necklace is just so pretty!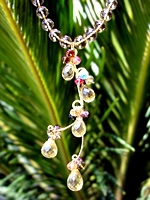 Another beautiful necklace is by K. A. Mace Jewelry whose Beer Quartz Multi Tourmaline Vine Necklace is truly a work of art. She uses the highest quality tourmaline stones that not only enhance attire but also reflect the colourful nature of the owner's personality.

The best thing about handmade jewelry is its diversity. Where else would you find a delightful Black Rose Teapot Necklace for your favourite tea-drinking friend? This cute little charm was created by the Silver Gate Studio, who seem to be wise to the universal love of tea!

Gems Gone Wild





Okay, so I might be getting a little carried away with myself, but who isn't looking to add some extra shine and sparkle to their life? The handcrafted jewelry world has so much to offer, and I get the feeling that we're barely scratching the surface! I can't wait to see what else they have in store for us.

Footnotes:

Sources:
http://en.wikipedia.org/wiki/Costume_jewelry
Photo Credits: K. A. Mace Jewelry, Femmedetails collection by Alegra, Curly Sue, Silver Gate Studio, Stubborn Woman.