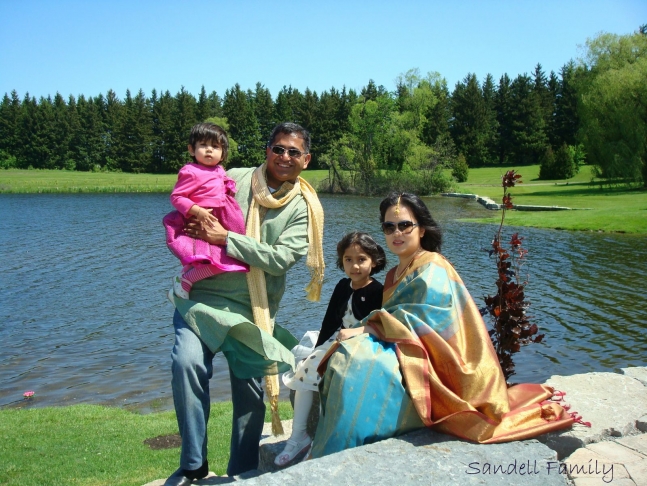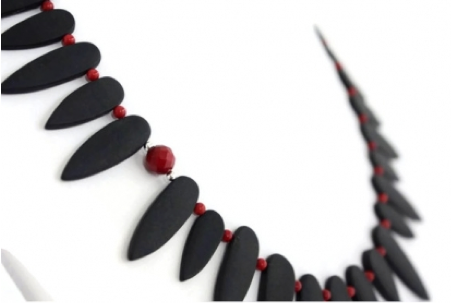 As a young girl, Reshma Sandell wanted to be a crime detective, but, she says, "Destiny had other plans."
"Crime stories still intrigue me. Needless to say I do like crime thrillers! I still feel I would make a good detective, but […] I ended up being a banker and now am pursuing my passion in jewelry!"
Anyone who browses AhKriti, her shop on iCraftGifts.com, will be glad that Reshma spends her nights crafting jewelry instead of fighting crime.
In Sanskrit, AhKriti means "a beautiful form." The mother, career woman and jewelry designer behind Indian Inspired Ethnic Jewelry, creates beautiful pieces that are inspired by her home country: "the land of Mysore Silk, Kanjeevaram Sarees, the Taj Mahal and Assam tea – INDIA." Her handmade jewelry is full of statement pieces- bold, beautiful, and modern with "an East Indian aura and in dark and very coloured hues."
The AhKriti Facebook page includes her mantra, a quote attributed to Albert Einstein: "Just like Albert Einstein once said, "Creativity is contagious, pass it on."
And just like that, AhKriti was born.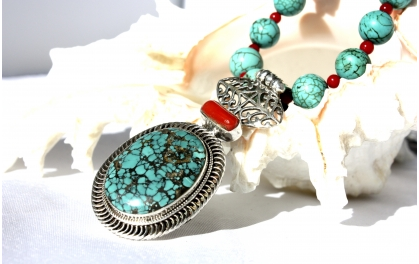 Each bead, gem, and piece of hardware in the store is handpicked, with turquoise and red favoured amongst the stones, although blacks and earthy tones are splashed throughout. The collection is "vibrant with a burst of colors."
"I love using silver in my creations. Silver is such a metal that it makes gemstones look more exotic. But because it's getting rather expensive I sometimes use other metals like pewter in my creations."
Changing economy or not, the one of a kind pieces are a flawless "fusion of ethnic and western wear. They are creations for the modern woman who is confident, bold and expressive. Just like I would like to flaunt my accessories, I envision that the woman who buys my jewelry will want to wear it time and time again."
Reshma was inspired to begin creating her own pieces after a move from Vancouver, BC to Mississisauga, ON. It "gave me a lot of time on my hands and one afternoon, my husband packed me off to a beading class. My story to create jewelry began there."
She explains, "I come from an Indo Canadian background and Bollywood is in my blood. I noticed that there was not a big market for affordable ethnic jewelry in Canada. Yes, there are stores here that do sell Indian jewelry and they are undoubtedly beautiful, but they are not handmade but sourced from India.
"I wanted to make something distinct, unique and in a style that would be affordable. So I decided to start my online jewelry business - Indian Inspired Ethnic Jewelry by AhKriti."
One of the things that makes Reshma's pieces really shine on iCraftGifts.com as well as in real life are her fabulous product photos, as evidenced here.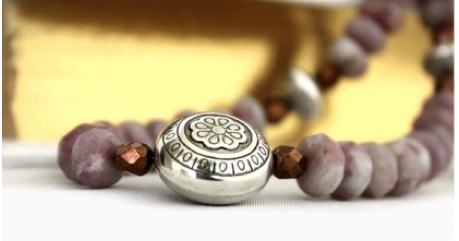 Obvious factors aside, there is also one other reason that Reshma enjoys the creative release of making her own pieces: "Making jewelry is my de-stress mantra. If it were not for designing jewelry, I really don't know how I would keep my sanity!"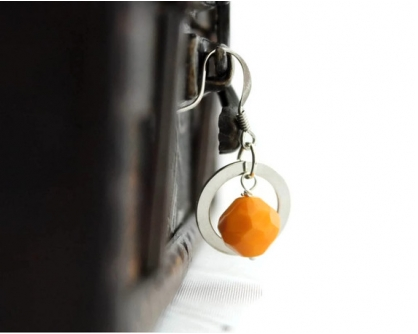 As relaxing and creative a process as making handmade can often be, it is not without its own frustrations. Maintaining the fun and free aspect of your crafting by not focusing on it too intensely is important. Reshma keeps thing fresh by changing it up: "Other than jewelry, I am interested in crafts which I can make with my daughters. I usually end up making a lot of paper crafts."
She also discusses the tougher side of DIY.
"The most challenging thing about being a handmade artist is being able to sell one's product online. Most women would like to try and wear jewelry before they buy - does the necklace suit them, do the earrings match and thoughts like that."
One way to combat this concern of online crafters is to integrate some local crafts festivals into your brand promotion, as Reshma plans to do soon, with AhKriti's debut in a local crafts festival in her area. Be sure to hand out business cards promoting your online shop if you follow her lead and attend a local crafts festival in your area.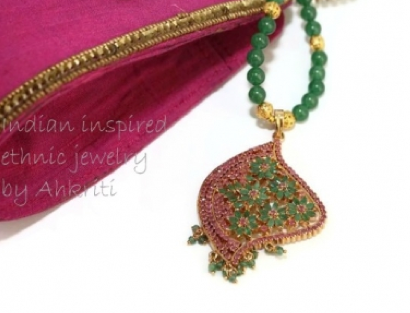 And if you do, you will likely find that dedication to your craft is not without reward. Positive feedback makes all of the work worthwhile.
"When clients come back and tell me that they received a lot of compliments after wearing my jewelry, it really feels rewarding that my creation was truly appreciated."
Not only do her inspired pieces help other women feel beautiful, but the initial goal of AhKriti was not lost on Reshma, either. She can proudly claim, "I now design and make my own jewelry for every dress in my wardrobe!"
Do you own any Indian inspired ethnic jewelry?
Reshma has a How-To post "Making an aqua blue wool bangle" on iCraft Blog. Would you try making your own Indian inspired ethnic jewelry?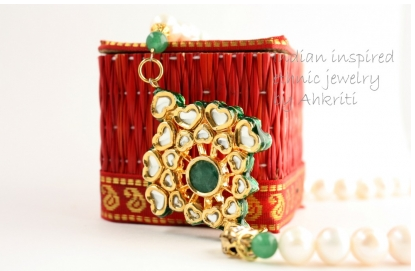 She also mentions doing paper crafts with her children. Are there any crafts you and your children enjoy doing together?
Please leave a comment below!
Happy Halloween, iCrafters!
Justine
Sellers, if you would like to be featured in a Spotlight, please send me a message.
Editor's Note: It was a pleasure working with Reshma for this In the Spotlight. She was polite, helpful, forthcoming, and quick to respond to my questions.
In other words- no pressure, everyone! :)
Love her jewelry? You can "Like" the AhKriti Facebook page, Follow AhKriti on Twitter, or subscribe to the AhKriti blogs: http://masalamangomantra.blogspot.com/ and http://colorcanopy.blogspot.com/
Photo Credits: Indian Inspired Ethnic Jewelry by AhKriti