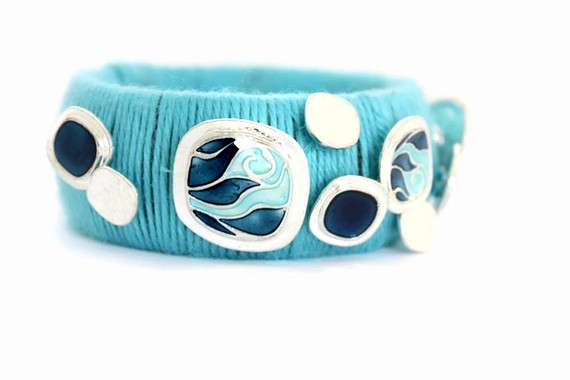 I use only metal like silver, metal and gemstones in my jewelry creations, so using wool in my creations was indeed a challenge.
At first I thought I should wrap wool around the chunkiest of beads that I could find but then I decided that I should wrap wool around a bangle instead.
So I got cracking and looked around for a bangle, some yarn and blue beads. Lucky me I did have some blue yarn and matching beads to accessorise it. I bought a plastic bangle from the mall.
Things I used to create this wool bangle
1. A chunky plastic bangle
2. Yarn
3. Button Beads to accessorise
4. Clear gel tacky glue
5. Scissors
6. Needle and thread
Its rather easy to make this wool bangle and it can be addictive. This is how I made the aqua blue wool bangle.
When I started wrapping the wool on the bangle, it got tangled. So to make it easier for me to wrap it, I cut the wool into manageable length. I put some clear gel on the inside of the bangle and placed the end of the wool on it. This is where the wrapping begins. I waited for about 10 minutes before I started to wrap the wool around the bangle. You need wrap the wool tight. When you are finished, see that the end falls inside the bangle and that you have about 2 inches left to cut off. Add clear gel again and place the end on it. Once it has dried up, cut the extra wool off. Once the gel was dried up, I stitched on the blue button beads onto the wool wrapped bangle.
This project took me about an hour to create it.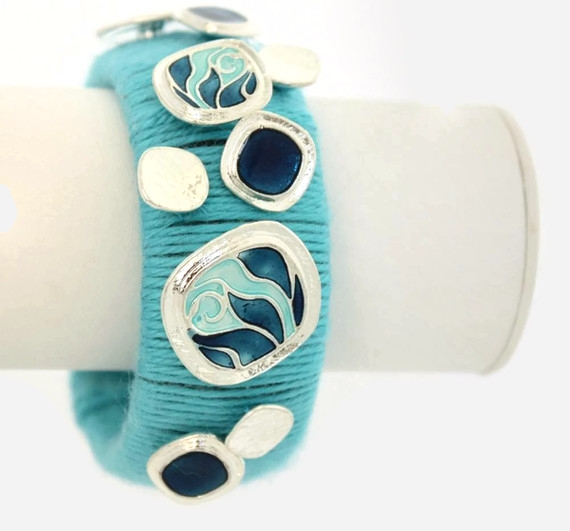 The width of the bangle is about 1.25"
Button beads : 9
Thank you for looking!