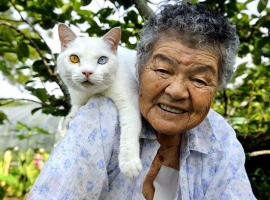 This gorgeous photo series is heart-warming and fun. The David Bowie of cats, this two-eyed beauty brings this grandma to life. Can't help but make a cat lover out of you!
Original story:
The Daily Life of a Grandma and Her Odd-Eyed Cat | DeMilked
For the last 13 years Japanese photographer Miyoko Ihara has been taking pictures of her grandma, Misao, and her odd-eyed cat, Fukumaru....
Read full story
Category:
Tags:
photography
cats
pets
books
photo series
Page Views:
2021