Although "Fashion Icon" might not spring to mind when you think about writer/comedian Tina Fey, this hilarious and talented woman has been turning heads with her so-called Geek Chic look since she debuted on Saturday Night Live in 2000. Known as the "thinking man's pin up girl", Tina Fey has the style and appeal of a woman who doesn't realize just how stylish and appealing she is!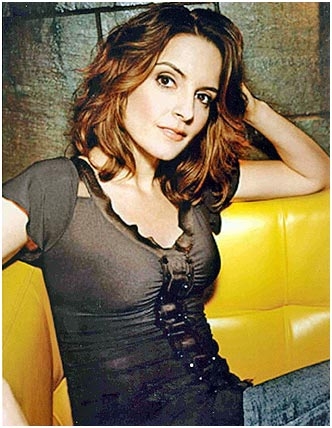 Elizabeth Tina Fey grew up in the small town of Darby, Pennsylvania where she quickly developed her trademark biting sarcasm and witty charm. She earned a degree in Drama from the University of Virginia and worked at the YMCA until she landed a spot in the revered Chicago Second City comedy troupe in 1994.

After a mutual friend helped her score an audition to write for SNL, Tina quickly impressed the show's producer, Lorne Michaels, and made a speedy rise to the top, becoming the show's first female head writer.

She branched out on her own in 2004 to write the hit movie "Mean Girls", in which she also co-starred. In 2006, she created a hilarious new show, 30 Rock, which plays on her time as a head writer for SNL.

Tina's cute look combined with her edgy humour made her a natural choice to take over SNL's Weekend Update in 2000 with Jimmy Fallon.

This was the first time Tina was in front of the camera, and her unique mix of beauty, wit, and intelligence won over many fans, both male and female.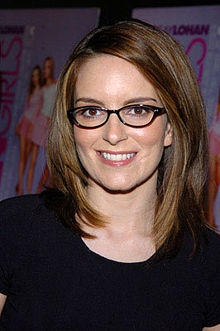 Tina's style has evolved from her early years on SNL, where she was often in suits or outlandish costumes, to a softer, gentler style now seen on her very funny and critically acclaimed show 30 Rock.
Tina created 30 Rock, writes many of its scripts, and stars in the show alongside Alec Baldwin. She plays Liz Lemon, a writer and producer of a weekly, live, comedy show (sound familiar?). Both Tina and Liz share a similar Girl Next Door appeal, and the 37-year-old beauty might make fun of you for saying so, but her self-deprecating humour just makes her even more attractive.
Liz, as Tina's alter ego, is often poking fun at herself and her lack of fashion sense. However, Liz has a look that is flattering and current, though definitely not trend setting or edgy.

She often wears jeans (and no skinnys for this woman!), fitted sweaters, or feminine blouses, and of course, her trademark glasses. Her soft wavy locks are sexy and hip, evolving from the flipped out shorter crop she debuted on SNL years ago.

Tina has moved on to a girlier look, though she still steers clear of major trends. While there is an appeal in the Sexy Librarian look, sometimes Tina cuts loose, as when her character Liz goes out to hip parties, dates a younger man, or sees a wedding dress she absolutely loves and buys, despite not being engaged, or even in a relationship! She later facetiously defends herself saying, "I will marry myself if need be!"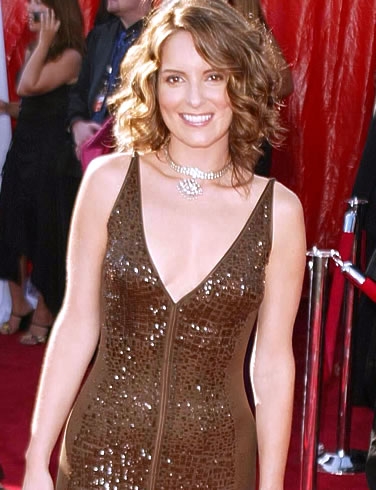 To achieve Tina's casual but elegant look, key items to have are simple, subtle pieces of jewelry, fitted jeans, v-neck sweaters, and tanks. She has a preppy look that could be found in stores like Banana Republic, Club Monaco, and Jacob. The glasses are optional!
When Tina's character Liz gets dressed up, she always looks beautiful, age-appropriate, and much more stylish than she gives herself credit for. As a successful woman on both her show, and in life, Tina can afford some quality clothes to highlight her best assets, always looking fresh and natural, and never like she is trying too hard or being Cougar-creepy. To up the ante from the girl-next-door appeal, try checking out Marc Jacobs or BCBG Max Azria.
Although Tina Fey might not have the Wow-Factor in her personal style, she always looks put together, confident, and attractive.

She knows how to dress and what works with not only her natural looks, but her personality and profession.

She has successfully managed to be herself and avoid all the flash and glamour that a celebrity can get sucked into, using her style as a complement to her career and personality, not as an excuse for one. She is also a great example of not having to try so hard to be sexy. People will notice! And they certainly have, as the Emmy winning writer has also been named as one of Maxim's top 100 Sexiest Women and one of People Magazine's 50 Most Beautiful People.
This career-driven, sophisticated, feminine and intelligent comedian is the perfect role model for the modern woman. Although she must lead a busy life as a writer, producer, actor, mom, and wife, Tina never seems to settle for mediocrity, and despite her penchant for sarcasm, her good spirit and caring personality always shine through.
Footnotes:
Sources:
http://ca.askmen.com/women/actress_250/278c_tina_fey.html
http://en.wikipedia.org/wiki/Tina_Fey