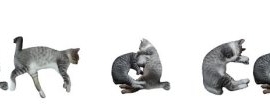 Move over cat videos, it's about time Cat Font took over. Type anything you want and it will be spelled out by cats in the shape of letters.

The internet loves cats so much it might as well be called the CATernet, amiright???
Original story:
NekoFont : Manual
Enter your text. Your NekoFont is here, meow!...
Read full story
Category:
Tags:
cats
kittens
font
design
Page Views:
1992