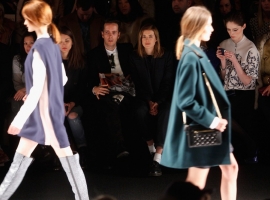 Can't decide whether I'm relieved or disappointed that the "raw" look at fashion didn't include the following:
- Lady Gaga's meat dress
- Anything resembling America's Next Top Model contests
- Models' food choices

Anything you wished you saw?
Original story:
Designer Rebecca Minkoff Uses Apps to Reveal the 'Raw' Side of Fashion Week
Rebecca Minkoff is going back to basics at New York Fashion Week. However, it's not her Fall 2014 collection delivering the raw aesthetic — the collection she showed Friday was polished and menswear-inspired — it's her social media presence that's changing....
Read full story
Category:
Tags:
fashion
technology
design
models
new york
Page Views:
2313