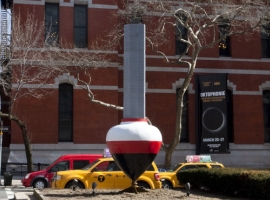 If you're in NYC these days, you might be seeing double.
When checking out the mini recreations of some of the most famous buildings in NYC, let me know if there's a tiny Godzilla anywhere around the Empire State Building...
Original story:
Alexandre Arrechea, No Limits | Exhibitions | Time Out New York
Cuban-born artist Alexandre Arrechea, put up the steel sculptures that create a walkable art tour between 54th and 67th Sts. Each piece is a riff on an iconic NYC building that twists and bends its source of inspiration as though it were a malleable garden hose. Among the architectural gems depicted are the Empire State and Chrysler buildings...
Read full story
Category:
Tags:
art
installations
exhibits
nyc
new york
architecture
Page Views:
1941