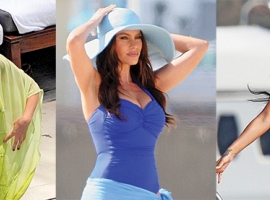 You know how they say fashion is cyclical? This "modest swimwear" trend is one I hope sticks around. It's for the greater good!
Original story:
Bikini trends: no more itsy-bitsy, teeny-weeny
When Kourtney Kardashian spent a late-July weekend hanging out at a trendy Miami pool, the celebrity was sporting swimwear that was decidedly modest in design: a black one-piece with a low rise at the hip, and a yellow strapless suit, also a one-piece. Indeed, after years of postage-stamp bikinis dominating the market, more conservative suits are flooding beaches and the pages of fashion magazines...
Read full story
Category:
Tags:
fashion
trends
swimwear
bikinis
celebrities
style
summer
Page Views:
1779