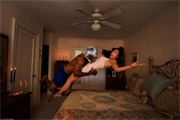 Okay, so maybe athletes don't need extra attention but taking them off the field and putting their spectacular moves into everyday situations is a pretty killer idea for a photo series. Check 'em out, but... don't try it at home.
Original story:
Home | Athletes Among Us - Jordan Matter Photography
The follow-up project to Jordan Matter's New York Times bestselling book, Dancers Among Us...
Read full story
Category:
Tags:
photography
sports
art
athletes
Page Views:
1478