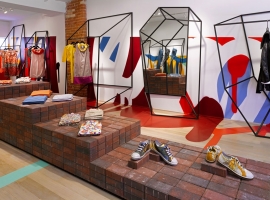 These geometric clothing racks do a pretty awesome job of making clothing stand out. Plus, they might help inspire the tidy-challenged to keep clothes off the floors! They seem to have some decent DIY potential, no?
Original story:
+ tongtong - Annie Aime
+tongtong creates dynamic environments and objects for peoplephenomenal experiences that enrich their lives....
Read full story
Category:
Tags:
design
decorating
clothes
trends
fashion
Page Views:
1343