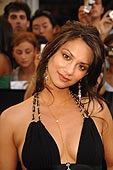 Josie Tecson, creative artist and self-made entrepreneur knew there was no turning back when she left her Vancouver home at the age of 25 and accepted a position with La Senza, Canada's leading lingerie company, as a Marketing Coordinator. She headed east to Montreal, Quebec where the La Senza head office was located to begin her new and independent life. Shortly after, she moved to Toronto, which was one of the two cities Josie eventually wanted to begin her career (besides New York) to work at a publishing company. It was at Trader Media Corporation where she refined her technical skills and was greatly involved with pre-press production, printing, and the publication of several magazines. With the restrictions of creative freedom at her full time job, she took a leap of faith and quit. Josie's confidence in her artistic skills combined with a strong sense of intuition and foresight in business matters gave her the determination to start her own business.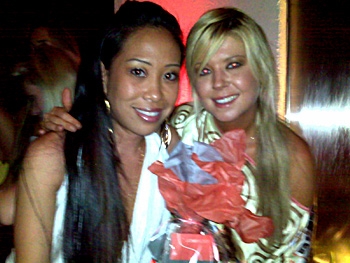 "My Background"

Josie, born in Manila, Philippines, moved to Vancouver, British Columbia at the age of two with her parents and older sister. She started painting and illustrating as soon as she figured out how to hold a pencil. With the encouragement of her teachers and parents, she pursued her artistic skills throughout her school years into college. She was invited to take part in college art courses during high school, which eventually lead to the exhibition of her paintings in local Vancouver art galleries. After a portfolio submission of her pieces and personal interview with the instructors and program faculty members she was finally accepted and offered a limited seat to one of the top graphic design programs in British Columbia. She studied at for four years at Capilano College where she learned desktop publishing, graphic design, art history and creative arts.



"How It All Started"

Quickly establishing herself as a freelance graphic designer, Josie began to take an interest in hand painted glass work and beading. This natural affinity to decorative design spawned into what would later become Josie Tecson Collection, the brand and the business.


While supporting herself as a bartender part-time, Josie dedicated all her remaining free time to creating pieces that moved her and represented her spirit, especially her character as a strong independent woman. She started by taking the time to find her way in an industry she was gradually learning about. Josie began doing custom art pieces, such as hand painted glasses, which eventually required some unique bead work. The experience of working with beads had lead to the designing of a whole bridal collection. Her unique designs attracted custom orders through word of mouth from family and friends at first, then eventually through the fashion industry. Josie set up shop in her downtown condo and put in full-time hours in her studio teaching herself all about the jewelry industry through research. Fortunately, because of her driven desire to succeed and passion for creativity, designing jewelry came naturally. She sold her collection at Toronto's Harbourfront and St. Lawrence Market and was invited to showcase her pieces to local retail stores on Queen Street. Things began to move quickly after her website launched in October 2006.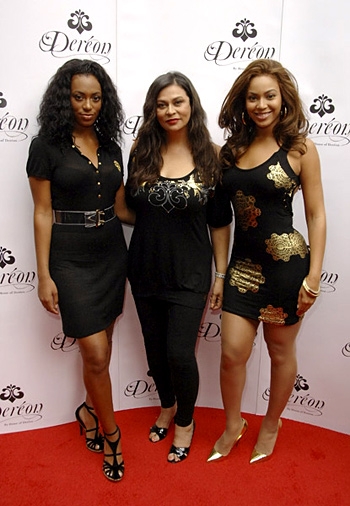 "It Was A Real Turning Point In My Life"

Soon, the quality and diversity of Josie's work was attracting attention from stylists responsible for adorning celebrities such as Nelly Furtado and Beyoncé. Josie Tecson accessories were used for Nelly Furtado's European Get Loose Tour, with dancers wearing signature gem pieces and band members sporting funky and cool leather bands with semi-precious stone settings. Josie's most thrilling moment to date occurred in August 2007 when the House of Dereon's brand manager in Montreal contacted her about accessorizing the Canadian launch of House of Dereon, the clothing line designed by Beyoncé, her mother, Tina Knowles and sister, Solange. The quality of Josie's handcrafted and Canadian made pieces had garnered such respect that her collection proved a perfect fit for such an A-list celeb as Beyoncé.


"Do Your Research and Make It Your Own"

Josie knows that it isn't luck or talent alone that brought her business to the place it is today. In addition to attributing a lot of her success to the support and encouragement provided by her family, she knew better than to get in over her head. She encourages the notion of taking your time, being meticulous in every detail, and knowing what you want and never forgetting who you are and where you come from.

This belief in her talent and the quality of her work allows Josie to focus on the finer details that lead to success. She knows that it is the little things that make the difference. Networking and attending social events is a necessity of the fashion scene, but having positive word-of-mouth credits also plays a big part to her reputation in this business. She always works hard to protect her image with professionalism and a touch personal nature.


"Josie's Involvement in the Entertainment Industry"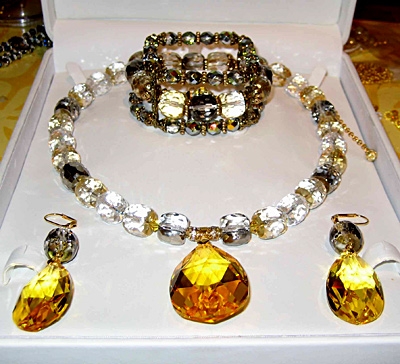 Josie was involved in accessorizing Toronto clothing company, Brazen Hussy's premier fashion show in early March 2007. She also accessorized a photo shoot with 2007 Miss Canada in Kavi Kavi clothing designs. Her accessories were featured in the June 2007 issue of Fame Magazine. Josie did exclusive interviews with writer, Sherika Smith on www.torontostyle.net, UATV, MaryJo Ustice and Ken Kostick's morning radio show on Proud FM. Josie created personal gift sets for celebrities such as Tara Reid and Canadian compatriot, Elisha Cuthbert. She accessorized Canadian recording artist, Cory Lee for the 2007 Much Music Awards and Narissa Cox, the host of E!News Canada on Global. An exclusive crystal jewelry set was designed for Vivica Fox to accent her ensemble designed by Brazen Hussy.

Josie Tecson, being a proud supporter of local talent, was invited to be the only company to take part in the exclusive gift lounge to Canadian artists for the Fido Show celebrating The Distillery's 25th Anniversary. She accessorized the cast of 'Corner Gas', 'Degrassi', and 'Instant Star' to name a few. Pieces from the new men's line were given to recording artist, David Usher and celebrity stylist, Paul Venoit from 'Look-A-Like'. This past Christmas 2007, an article was featured on her and her jewelry by Orlena Cain, editor for www.sugarcainentertainment.com. Josie Tecson has donated some of her signature pieces to charity events, such as 'Tarts-for-Tassels'-fundraiser for cure for cancer, 'Hotties for Humanities'-fundraiser for third world countries and took part in United Way events.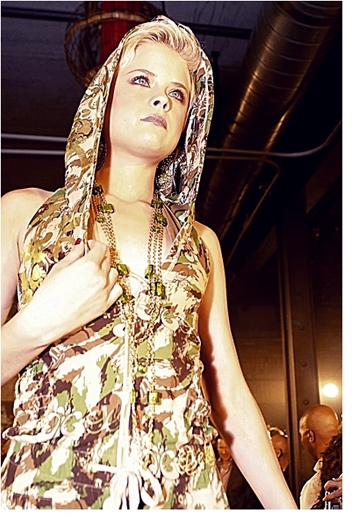 "I Would Love To Be On Oprah!"

Josie's success is not slowing down and neither is her ambitious spirit. She believes in freedom by forty and is committed to putting in the hard work that will take her to the place she wants to be. Inspired by the love she has for her puppy, Asia-Blu, Josie has an adorable pet line in the works for summer 2008. Not only that, but with a sexy and classy men's line in development and the desire to eventually launch an accessories line involving handbags, Josie is busier than ever.

She hopes her hard work will lead to seeing all her dreams realized. She'd love a Josie Tecson store in Toronto and eventually in the U.S. and worldwide, when she would continue with the role of lead designer heading a creative team.

Josie is dedicated to her business but believes in a personal life as well. She looks forward to the day when she will be able to take time for herself spontaneously and be able to have financial freedom to do anything without batting an eye. She also couldn't help but admit that she'd love to be on Oprah one day. She admires Oprah's business savvy, as well as her commitment to encouraging goodness in the world and giving back to those less fortunate.

Although Josie wishes she could travel more, she has been overseas many times and hopes to give back to her community and the economy with plans to develop her business and manufacturing in Asia. She also hopes to serve as a role model for every woman to be confident in themselves, independent in what they want, become stronger with every challenge and the courage to believe in anything they put their minds to. "You are in charge of your own destiny, so make it happen and set the path to reality."


Getting Personal With Josie Tecson:


LP: What do you never leave home without?
JT: A cell phone, just in case of an emergency. Because I'm a Gemini, and being 90% true to my sign, we are talkative… and having this specific tool as a form of communication is a great asset anytime, any place for any woman.


LP: What makes you smile?
JT: Knowing that I moved thousands of miles to live out my dreams, purchased my own home, and started my own business makes me smile. My puppy also! She's been amazing and has taught me a lot about patience in a big way…believe me! Thinking about my family in Vancouver often makes me smile too.


LP: What is your dream destination?
JT: Italy. The fashion, art, and history make it very appealing to me. I'd also love to go to Egypt or India. Seeing the origins of their religions and the simpler lifestyle are very inspirational and help realize how fortunate I have been.


LP: Are you a foodie? What are your favourite spots in Toronto?
JT: I love food! I grew up on chocolate actually! And although I don't drink a lot, I like martinis and enjoy feasting outdoors during patio season. Mildred Pierce is a family run restaurant that has amazing steak and beautiful ambiance. I also love sushi, especially from Kuni Sushi Ya on Baldwin Street.


LP: If you weren't designing jewelry, what would you like to pursue?
JT: If I didn't have an ounce of creativity in me, I would love to be a singer! I'm a huge karaoke fan and am addicted to American Idol. I've watched all seven seasons and I have the eighth season on VOD. I tend to believe that I'm more of a visual and artistic individual rather than an entertainer. I really see my visual skills as a gift and a source of strength.


LP: Finally, is there anything you would change about your life?
JT: I'm content at the moment and continue to count my blessing everyday, but as the song goes, "everyday I'm hustling…" (laughs). I look forward to spending more time with my family and travelling more. Sometimes I wish I could be more free and spontaneous but I don't want things to come easy. I'm okay with hard work and I like to be in charge of my own life. It builds character and only makes you stronger.

_________________________________________________________________________________

Josie Tecson Media Photos

Cory Lee
Josie Tecson accessorized Canadian Recording Artist, Cory Lee at the 2007 Much Music Awards. This particular piece was a custom design set consisting of a Swarovski drop necklace attached to a 24KT plated gold chain at the front of the bodice and is accented with a single gem cascading to the centre of the back. Matching teardrop earrings with a crystal heart anklet completed this ensemble.

Tara Reid
A custom gift basket was given to Tara Reid during her visit for the 2007 Much Music Awards by Josie Tecson. The jewelry given were pieces from the "Goddess" collection filled with sparkle components, glass beading, and crystal rhinestones.

Elisha Cuthbert
Josie met Elisha this past summer during a summer promotion for Inside Nightclub's patio launch in Kai, located in Toronto's club district. She was accessorized with designs from the Urban collection consisting of several silver pieces.

Vivica Fox
This Canary Swarovski Crystal Set was especially custom designed for Vivica Fox for her dress by Brazen Hussy. Josie created this piece with golds, crystals, glass, and unique gems.

Dereon
Josie Tecson Collection accessorized the Canadian launch of Dereon fashion show at Ultra Supper Club in Toronto for Beyonce, Tina Knowles and Solange's clothing line in August 2007.

Automotive, Glam Tags, Big Luv, Army Chains
The models for the Dereon fashion shows off Josie Tecson Jewelry Collection on the runway. The jewelry designs embodied a bold, rich and goddess theme with plenty of elaborate gold components, colorful glass designs, large crystals, and sparking rhinestones. It expressed a youthful and urban feel, which complimented the entire Dereon collection in a unique fashion.

Footnotes:
To view Josie's original jewelry and accessories line, please visit www.JosieTecson.com.