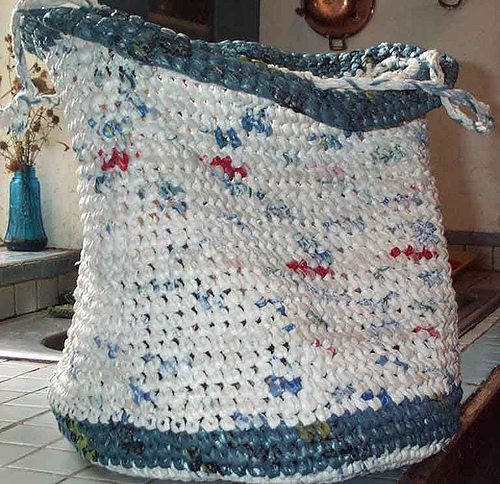 A woman with the best nickname ever, "The Bag Lady", is taking old plastic bags and turning them into different pieces including totes, rugs, handbags, and hats. Being environmentally friendly, the recycled pieces are finding their way into some stores around the U.S.

Image credit: wikihow.com: How to Prepare Plastic Bags for Knitting or Crochet
Original story:
Plastic pastime, clothing made from plastic bags MLive.com
There are recyclers, and then there is Cheri E. Woodman. The affable 58-year-old Saginaw -- affectionately dubbed "The Bag Lady" by friends -- spends countless hours transforming discarded plastic shopping bags into unusual totes, shawls, bonnets, handbags, hats, sandals and rugs. Woodman, a homemaker and occasional secretarial temp at Saginaw Valley State University, taught herself to make the pieces after watching a cable television craft show....
Read full story
Category:
Tags:
crocheting
upcycled
recycled
craft
bags
Page Views:
1504