For part 5 in our How to Increase your iCraft Sales Series we're looking at blogging and other iCraft tools to help increase traffic and convetsion to your website. Read more on this below!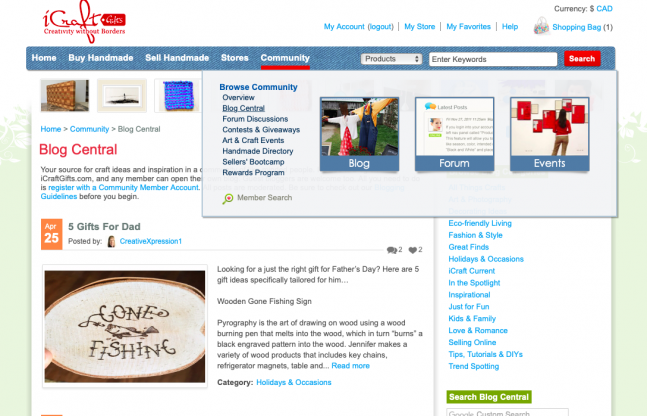 Blogging:
Blogging is a great way to increase traffic to your iCraft shop! You can blog as much as you want, all the newest blog posts appear on the home page.
It is a great way to promote your product as long as there is some kind of story or theme behind it. For example do a post on your top 5 handmade wedding gift ideas and include your product or include diy's and product links relating to a theme and include your product in there as well ex. '10 great spring decor ideas'.
Blog are also a great way to increase external search engine optimization, so be sure to use tags on your post and keywords within the body of your post.
Remember to read the blogging guidelines here before you start blogging to make sure your blog adheres to them which will get it approved by the iCraft admin.
Critique their store section of forum:
The critique your store section of the iCraft store is a great way to get info from other sellers on your shop and ways you could improve it.
Having your shop combed over by other sellers will point out things that you may not notice such as incorrect price point, changes in descriptions, if your photos are good enough etc. that could be improved to increase your conversions. Get your store critique here.

Sellers Facebook Group:
In the iCraft sellers Facebook group sellers can start discussions, get their items added to collections that are featured on the home page, directly ask questions that can be answered by other sellers and iCraft admin and discuss other topics like social media and how group Pinterest boards work. Want to join? Head here.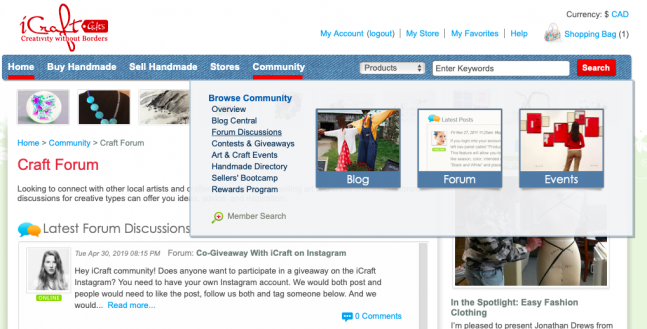 iCraft Form:
On the iCraft website we have a form with tons of archived information, it is categorized by topic so there is a bounty of information from iCraft sellers on ways that have worked for them to increase sales as well as marketing techniques, troubleshooting issues etc. As well you can start your own thread and ask a question, make a suggestion or contribute to an existing thread with information. It is a great way to connect with other like minded sellers, check out our form here.
We're currently working on new website so we are working on improving the iCraft website and also giving more tools to help you generate clicks and sales in your shop! Have a suggestion on how we can improve the website? Or changes you would like to see on the new website? Leave it below!