We often get asked how to increase your sales on iCraft so we decided to create a blog series with our best tips! There are a multitude of ways to increase traffic and sales but for this installation of the series we will be focusing on the home page and how to get on it.
For context the homepage is the first page of our website that visitors see when they head to our website: https://icraftgifts.com
Therefore having your products on the homepage gives your product higher visibility as it is seen by everyone who heads to the website, via the above URL, and not just when they search keywords. Here are our 3 best tips for getting on the iCraft homepage: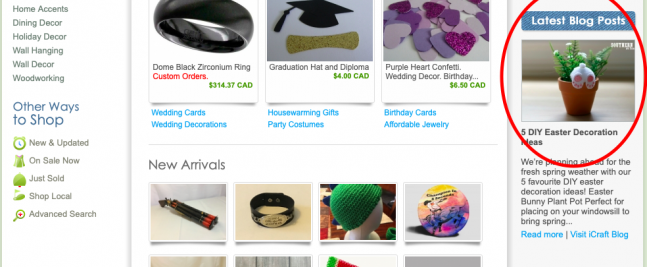 1. Write blogs:
All new blog posts are promoted on the homepage, community page and are the first seen post when visitors click on 'blog central'. Writing blogs that include your own products in the post is a great way to get people to see your products. A great way of doing this is doing 'round ups' posts.
For example a post like '5 Great Handmade Wedding Products' and including your wedding jewelry in it along with 4 other iCraft sellers wedding related pieces is a great way to provide useful content that also promotes your items. Or you could do something like '5 Spring Decor Ideas' and linking to some DIY spring time decor ideas you have found online, as well as some handmade products, including your own that fit under this theme.
Another reason to blog frequently is because people click through to blogs that are featured on the home page and the blogs at the top of the blog central section get the most views as they are right at the top and easily accessible!
TIP: Be sure to tag your blogs with relevant keywords so the keywords are picked up in search engines outside iCraft Ex. Google so you can attract traffic that way as well.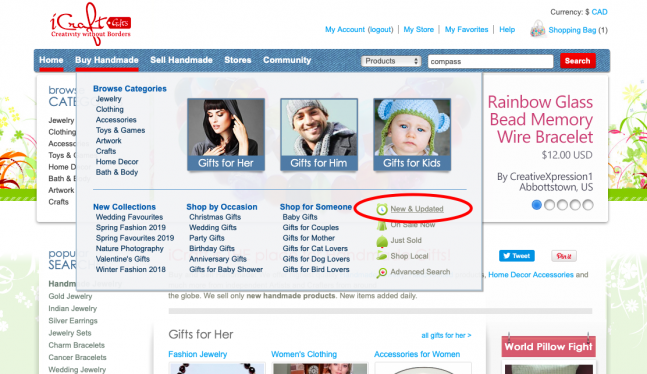 2. Post New Products Frequently
When we update our homepage banners, we choose only new and recently updated products to feature in those banners. This is because we can be assured that product is up to date with photos and information.
iCraft also automatically promotes new and recently updated products in the rotating widget at the bottom of the homepage and on all other site pages at the top of the page as well.
By adding new listings or tweaking and updating your listings frequently it files them as updated. This makes your listings to the top of the search results when people search for key words relating to your listing and also shows up for us when we are finding new products to feature on the banners.
It also puts them in the home page drop down menu 'new and updated' section which is one of the most clicked sections of the website.
If you are not able to add new listings some easy ways you can update your listings include:
-Editing description copy
-Updating titles
-Updating photos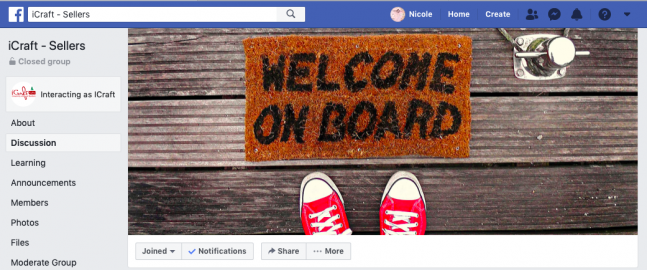 3. Join sellers FB group
We have a Facebook group for iCraft sellers where we post tips, tricks and have an open forum for discussion on any handmade, crafting or iCraft related topic. We often post links to collections (Ex. Spring Clothing or Easter Favourites) we have made asking people to post their product links that relate to the collections for us to add in to the collection. Or you can make your own collections and post the link in the group asking other sellers for links to their product that relate to your collection theme as well. Join the group by clicking here.
Have any other questions about the home page? Let us know down below and will get back to you! Plus keep your eyes out for Part 2 of this series.