The Scarf is a pretty happening accessory these days. With seemingly endless options of length, width, design, and fabric, the way your scarf is worn has evolved from a simple personal choice to a broader symbol of your overall style.

Let's take a closer look at the three most popular scarves and discover their style potential.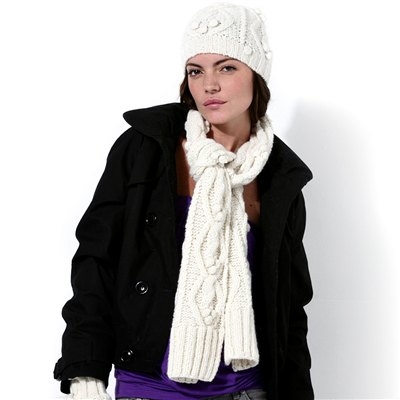 The Traditional

The traditional scarf is a thick wool winter scarf, which is also generally the most functional of scarves. A staple to anyone living in a northern climate, the winter scarf becomes a mandatory accessory for the coldest months of the year.

The best way to make a traditional scarf more fashionable is to choose a quality product in a solid colour. The thick cable knit scarf is classic and versatile and can spruce up the ever non-flattering winter coat. Opt for long traditional scarves, as something short and bulky is not practical or flattering.

The traditional scarf is trendy in a super long form right now. If you come across something that seems to go forever, don't make the mistake of wrapping it around your neck more than 2 times, it will look ridiculously bulky. Instead, you leave the long pieces draping across your jacket as almost an extended, warm, and cozy necklace.

Almost every retailer in a northern climate will carry a traditional scarf, so head to department stores like The Bay or Macy's for a wide selection. Make sure you get something made with good wool and a tight knit so that it is both warm and fashionable.



The Skinny

The skinny scarf is available in every colour, print, and fabric imaginable. It can be worn to doll up a t-shirt, or with a spring or autumn jacket, but it's not advisable to wear a skinny scarf with a big winter coat. Skinny scarves look best when also left to dangle like a necklace. Depending on how thin they are, you can also double up, playing with prints and patterns.

Make sure not to get too matchy with scarves or you will end up looking like Scarf Barbie. Instead, just as with other accessories, the smartest fashionista knows how to complement looks, not pair them up. If you are wearing a basic outfit like a plain tank and jeans, you could add a loose sweater and a brighter skinny scarf to dress up your outfit. A dressier scarf will have sparkling thread woven into it, or a silkier material that has more gleam. However, if you are already wearing something bright and colourful, opt for a single colour or less flashy scarf.

The long skinny scarf can also be worn as a loose tie around your neck. To achieve this look, put the scarf around your neck, without looping it in the traditional way; just let each end hang. Next, tie it into a knot partway down your chest, so that it will hang like a loosely dangling necklace. If you want to be really different, you can also do the reverse: have the scarf dangling down your back, rather than your front. Another option with very thin scarves is to use them as headbands, with the longer pieces also draping down your shoulders.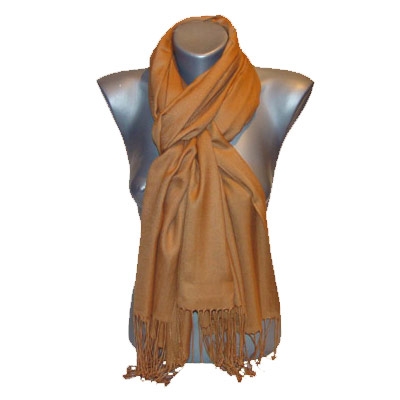 The Pashmina

Pashmina scarves are becoming increasingly popular with the everyday fashionista. The traditional scarves of India and Middle Eastern cultures, Westerners are adopting these wide and colourful pieces into their own wardrobes. The best thing about Pashminas is their quality and versatility.

True pashminas can cost hundreds of dollars but good quality varieties can also be found for less than $50. Also, it's always worth a trip to your city's Indian neighbourhood to find authentic scarves at a good price.

Pashminas are traditionally medium length and wide. Their size allows them to be worn in a variety of ways – as shawls, belts, wraps, or around your neck. Pashminas look great when wrapped around your neck but left thick and bulky. This is a growing trend with hipsters, who leave the fringes dangling, but keep things fairly tight around the neck.

Another great way to show off a pashmina is by using it to update a plain dress. Take your staple little black dress, drape your pashmina around your waist, and let it hang at a 45-degree angle. This look is very exotic and helps draw attention to an older dress, taking it from drab and making it hip again.

Sum of All Scarves

No matter what season you are in, there is always room for a scarf to enhance your look in a subtle but stylish way. They also make great gifts and you can never have too many!

Footnotes:
Photo Credits:
http://www.amazingcollections.com/members/778527/uploaded/pashmina_brown.jpg




http://www.asos.com/images/inv/K/18/272/208411/Gold/image1xl.jpg




http://www.asos.com/images/inv/E/18/134/95627/Cream/image1xl.jpg