Accessories are arguably the most fun you can have with your wardrobe. Although you might not be comfortable wearing crazy colours or patterns on a t-shirt, a bright bangle or some funky earrings can instantly pump up an outfit with personality and pizzazz. Besides adding a personal touch of style to your ensemble, accessories are also a great way to explore trends and transition through seasons in an affordable way.

Here are three easy ways to take a simple outfit of jeans and a white tank top to a whole new level with accessories alone.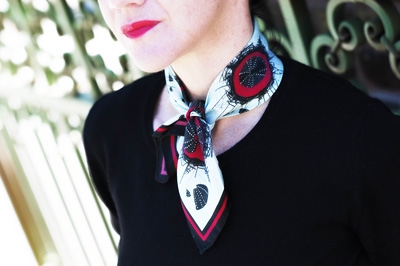 Daytime

Your daytime look should be reflective of your own personal style in a subtle, understated way. Jeans and a tank can be complemented with a light shrug or a cute scarf used as a shawl.

A great pair of flats or stylish runners like Pumas, Diesels, or Converse will keep you casual but still chic. Offset the sportier look of sneakers with a thin headband or one that comes complete with fabric ties to mimic the look of a scarf for some extra feminine appeal.

Simple drop earrings in a complementary shade (not necessarily matching!) and a single metallic bangle complete your fresh and finished look.

Great places for daytime accessories are inexpensive shops with a wide selection like H&M, Le Chateau and Ardene. For affordable daytime shoes, try Spring or The Shoe Company.

Office

To make jeans and a tank a little more formal for Casual Friday, you might want to invest in a great blazer and a quality pair of pumps or boots with a little sheen. Avoid too much height or flash, as it may not be appropriate for a professional setting.

Jewellery should also be kept sophisticated and coordinated with your overall appearance. Studs or small and monotone chandelier earrings would add some shine and accents in the right places!

Too much jewellery should be avoided, as you might end up looking too casual or too evening. A simple long and tiered necklace or wooden jewellery would be appropriate choices as they aren't distracting or noisy. (Don't you hate it when girls wear piles of bangles to work and you hear them rattling all day?)

To find office worthy accessories from shoes to rings to bags, check out Banana Republic, The Bay, or Club Monaco. For luxurious but high quality shoes, head to Town Shoes or Brown's.

Evening

Take your tank and jeans straight to the club with a pair of sassy heels, some funky long and layered necklaces and either a thicker bangle or a big ring.

Scarves are also great accessories that can add a lot to an outfit, by loosely wrapping it around your neck in lieu of a necklace. Popular patterns for this season include hound's-tooth (but don't feel like you have to stick with the traditional colours, they are available in many shades) and animal prints. These kinds of patterns are best kept to small patches on bracelets or scarves, as they become too bold and in-your-face in larger areas.

The clutch is also a key addition to any ensemble this season and a glimmery, metallic handbag will instantly illuminate your basic first layer.

If you are into trends or are more adventurous, you can also check out the many styles of hats available for fall/winter, including the always popular fedoras and "Fidel" caps. Paired with girly heels or boots and some shimmery earrings, this is a perfect look for nighttime fun.

To find some funky and evening-worthy accessories, head to Urban Outfitters, Aldo Accessories, or Nine West.

Unique Finds

Accessories are a great place to experiment and invest in real artistic pieces. Always keep a lookout for one of a kind items made by smaller companies or lesser known designers. In Toronto, Queen Street West houses many independent jewelers who offer a variety of unique and stylish pieces. In New York City, check out SoHo or the Lower East Side for smaller boutiques that may not be as pricey as the shops up on Fifth Avenue. No matter what city you are in, a great find may only be a street away.

Endless Options

Remember that adding accessories to your wardrobe is probably one of the most limitless and easiest ways to change an outfit or bring it up to the current style. It only takes a few seconds to change from one look to the next and stockpiling a few great pieces for certain events is always a worthwhile investment. From daytime casual to workday professionalism to evening glamour, the right look is only minutes away!



Footnotes: Photo Courtesy of Christopher Gentile.