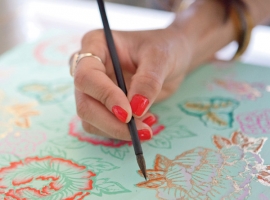 Sharon Lee got her start studying the interior decorator for the White House, so I'm pretty sure I can't say much more about her... she's got friends in high places! And really, her East-meets-West designs are amazing. Check 'em out.
Original story:
Sharon Lee Crafts Chic Wallpaper Inspired by Korean Folk Art :: Articles :: Los Angeles Confidential Magazine
After cutting her teeth working for White House interior decorator Michael S. Smith, artist/designer Sharon Lee opted to strike out on her own last year and hasn't looked back. A Los Angeles native, Lee, 29, turned to her Korean American roots to craft a line of contemporary art—and new home goods—based on elements found in her culture's folk art......
Read full story
Category:
Tags:
design
decorating
wallpaper
decor
korean
art
Page Views:
1995