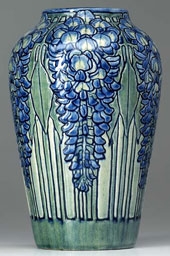 The market for pottery is still going strong, as evidenced by a recent sale of a Newcomb College vase for over $40,000 in New Jersey.
These pottery pieces have only recently emerged and bare witness to the innovative pottery program that began in New Orleans in the late 19th century when being a pothead had a whole different meaning.
Original story:
Girl Power - Forbes.com
Painted by Marie De Hoa LeBlanc during the male-dominated Arts & Crafts period, this stunning Newcomb vase just sold for $42,500....
Read full story
Category:
Tags:
vase
pottery
sale
Page Views:
1358