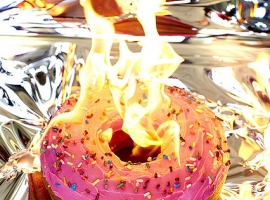 Here's a twist on avoiding junk food: setting fire to it. Maybe these will IGNITE interest in a new diet?

Hmm... maybe not. They still look pretty good.
Original story:
Henry Hargreaves
Henry Hargreaves is a New Zealand still life, art and fashion photographer working out of his studio in Brooklyn, NYC. His life long love of taking photos took an unexpected turn when he was spotted traveling through South East Asia and was whisked off to Europe to work as a high end fashion model. After 4 years on the other side of the camera and the catwalk he gave it up to pursue his own creative pursuits....
Read full story
Category:
Tags:
photography
art
junk food
henry hargreaves
Page Views:
1954