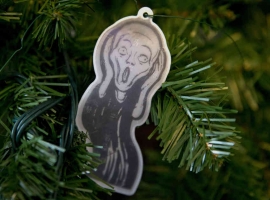 Want to make your holidays extra artsy and extra scary at the same time? Take it from the Norwegian embassy in the US, who honoured Edvard Munch's painting The Scream by decorating a Christmas tree with 700 ornaments in its creepy, scary face.

Or you could choose to make a bunch of ornaments that depict the Mona Lisa and confuse everyone! So many options - whose painting would you most like to convert to decorations?
Original story:
Nothing Says Christmas Like 700 Screaming Faces : NPR
Every year, as a gift to the American people, the Norwegian Embassy decorates the Christmas tree at Washington, D.C.'s Union Station. This year's tree is decorated with 700 reflective ornaments featuring the man from the painting The Scream by Norwegian artist Edvard Munch. This month marks the 150th anniversary of Munch's birth....
Read full story
Category:
Tags:
christmas
holidays
scream
Edvard Munch
decorations
Page Views:
2086