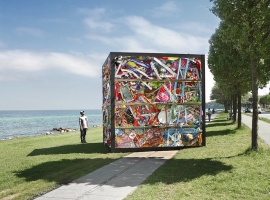 Spending a day at the amusement park is always fun, even if it's boxed up. Okay, maybe it's not as fun, but it's still pretty cool. And hey, at least there aren't any height requirements!
Original story:
On View: The Glue Society, "Once" - Sculpture by the Sea
For the outdoor group show "Sculpture by the Sea" in Aarhus, Denmark, James Dive of the Glue Society recently unveiled a large sculpture in the form of a four-by-four meter cube titled "Once." Created using the entirety of a real-life demolished amusement park, the deceptively elegant form is filled with an industrially-compacted cacophony of toys, light-up signs and rides. ...
Read full story
Category:
Tags:
art
exhibition
amusement park
denmark
sculpture
Page Views:
1400