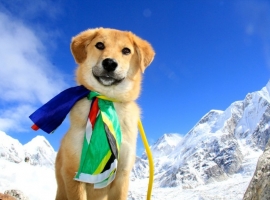 This photo series tells the story of Rupee, a once-stray dog who was adopted and became the first dog to climb Mt. Everest. Just goes to show, you definitely can teach old dogs new, incredibly impressive tricks!
Original story:
Former Stray Becomes First Dog to Climb Mt. Everest - My Modern Metropolis
Meet Rupee, he's a former stray dog that just made history by becoming the very first dog in the world to climb Mount Everest! Found starving in a dump in Northern India, his owner, Joanna Lefson, decided to rescue him...
Read full story
Category:
Tags:
photography
dogs
pets
inspiration
travel
Page Views:
1068