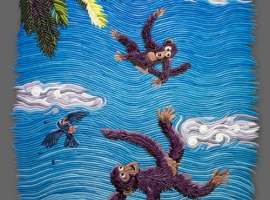 This reminds me of Play-doh, except incredibly advanced. Seems like it'd be fun to try, and even getting things "wrong" could work out. Plus, clearly creates brilliant ideas: who doesn't want to see Buddha on a treadmill?? (Must click!)
Original story:
Polymer Clay Rolled into Thin Strands Form Artworks
Washinton DC-based illustrator Joseph Barbaccia rolls polymer clay into thin strands of color and lays them out in intricate designs to create his colorful artworks. ...
Read full story
Category:
Tags:
clay
art
design
portraits
art
crafts
Page Views:
2461