Start Date: Nov 23, 2013 at 12:00 am
End Date: Nov 24, 2013 at 11:59 pm
Anyone can Participate
Status:

Closed



Page Views:
13327
---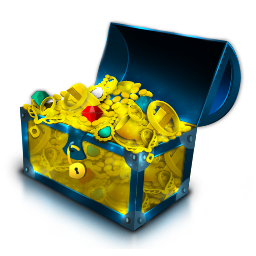 My great great uncle was one of the last original swashbuckling pirates on the high seas. There were rumours he had found the ultimate treasure chest – full to the brim with unique handmade jewelry! On his deathbed he revealed that he had hidden 20 of these treasures on the iCraft website.

For 48 hours only, starting Saturday November 23rd, you can follow the clues to find the treasures and maybe get your Christmas shopping done for free!


The Rules
Anyone who is interested can participate, including iCraft sellers, buyers, and craft lovers.
Please review these rules before the hunt starts. If you have questions, post them below in the comments section.
As soon as the hunt begins, we'll place jewelry icons on certain jewelry category and product pages.
You'll have

48 hours

to follow the clues and find as many icons as you can.The counter at the top of this page will alert you to the time you have left to search for treasure.
We've made this game challenging on purpose. But don't get discouraged. You don't have to find all the icons to win!
Here are the icons you are looking for.



When you find an icon, post the link to that page on your Twitter, Facebook, other social media accounts or your blog.
Everyone has to find their own icons, so don't share these links on the iCraft Forum or iCraft Facebook page.
On Sunday November 24th before midnight (EST), post a link in the comments box below to your Twitter, Facebook or your blog, wherever you've listed the pages you found. Also state how many icons you found. We'll review your pages and verify your count.
Comments will be open at 8:00 pm EST on Sunday, November 24, 2013.
If you find all treasures before that time or have any questions, simply email us.You can also post your questions on our forum. Just don't post your treasure links there.
The person who finds the highest number of verified treasures (icons), will win.
If there is a tie, the person whose links were submitted earlier, will win.
There will be 3 winners in total.
The winners will be announced on this page on November 25th.
All gift credits must be redeemed before December 25th 2013.
The Clues
| | |
| --- | --- |
| Treasure 1: Find all the gem's facets and you'll discover this treasure. | Treasure 11: Find Jasper where he hides in Hawaii, and you'll find this Oregon treasure. |
| Treasure 2: To stand out from the crowd this party season, find these unique strands. | Treasure 12: Find and keep Mother Mary with you always. |
| Treasure 3: Where's the wrist wrestling happening? | Treasure 13: Make your style with this closely-worn treasure. |
| Treasure 4: Find the treasure you'll never forget! | Treasure 14: Find your widest choice of iCraft's finest adornments. |
| Treasure 5: Listen, and you'll hear your friends praise your new treasures. | Treasure 15: Find the perfect addition to your favourite chain. |
| Treasure 6: Sometimes engaging, always found in a circle. | Treasure 16: Slow and steady wins the race to this treasure. |
| Treasure 7: Release some steam then turn the water off. | Treasure 17: Discover your family treasure in the forest. |
| Treasure 8: Look for the groom's mother. | Treasure 18: They say charming children are a delight. |
| Treasure 9: Deck the ears with Christmas folly. | Treasure 19: Show off your unique style on that special day! |
| Treasure 10: Wow everyone with these perfect matches. | Treasure 20: Find a mother's greatest treasure! |

The Prizes

First Place
The person who finds the most verified treasure icons will receive a $350.00 gift credit on iCraftGifts.com.
he winner will also have a choice of any 3 handmade items from iCraft sellers, displayed below.

Second Place
The second place winner will receive a $150.00 gift credit on iCraftGifts.com, as well as 2 of the 4 products remaining.

Third Place
The third place winner will receive a

$50.00 gift credit

on iCraftGifts.com, and the 2 remaining product.
All gift credits must be redeemed before December 25th 2013.


Products winners can choose from:




Black beaded necklace with gold pendant by Jewelry by Kat from

Chicopee, MA, US

.
Value: $20.00 USD


Native American Pink Coral and Sterling Loop Earrings by Sirocco from Bloomington, MN, US.
Value: $20.00 USD



Sterling Silver Candy Cane Lampwork Bead & Crystal Earrings by designsbydebra from Walnut Grove Langley, BC, Canada
Value: $25.50 CAD


Chainmaille pendant, Mobius, Silver
by Red Rock Designs
from

Oakville, ON, Canada

.
Value: $16.00 CAD


Yellow and Orange Bead Charm Bracelet by elizanne
from

Richmond Hill, ON, Canada

.
Value: $22.00 CAD


Black Wire mesh bracelet with rhinestones by Unique Bundle
from Paso Robles, CA, US
Value: $26.00 USD


Triple Dangle Earrings in Clear and Silver beads
by Jewelry Made With Love
from Elkhart, IN, US.
Value: $6.00 USD

The Winners
To redeem your gift credits - please pick your gifts on iCraft, go through our Checkout process, choose PayPal payment and complete the purchase on iCraft.
Don't pay for your purchase! Simply email us your Order number and we'll pay for it for you.

All gift credits must be redeemed before December 25th 2013.

Also, please email us your shipping address for the items that you can choose from the list above.