Shopping for someone else can be both easy and frustrating. There are times when you look at the colour or design of a sweater or other piece of clothing and know exactly that your mom or sister or best friend will loooove that! That's an easy shopping & gift-giving experience.
When buying jewelry for someone, it can get a bit trickier. Not only are you deciding from thousands of designs, but also things like gold versus silver, bling versus no bling or chunky versus delicate. You may really need to know someone and their personality to choose the right jewelry for them. When I have to shop for someone else, for any gift-giving occasion, I'm always stumped by the question "Will it fit?" This comes to mind especially with bracelets. Trying to guesstimate the size of someone else's wrist is a hard thing to do.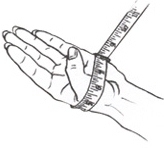 To measure a wrist for bracelets that are stretchy or that have no clasp, begin by outstretching the hand with the thumb over the palm, as if you're putting on a mitten. Then measure from the knuckle on your thumb all the way around the hand.
When measuring wrists for bracelets with clasps, or adjustable bracelets, measure around the wrist below the hand, or where you would normally wear a watch.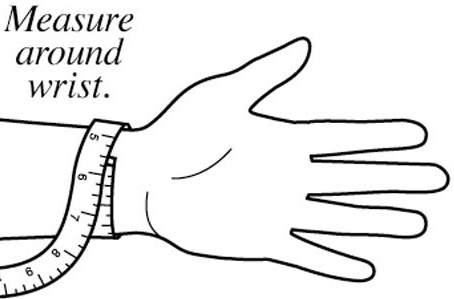 The standard sizes of wrists for ladies and men are:
19 cm or 7 1/2 inches = Ladies small
20 cm or 8 inches - Ladies medium
21.5 cm or 8 1/2 inches - Ladies large / Mens small
22.8 cm or 9 inches = Mens medium
24 cm or 9 1 /2 inches = Mens large
Now with a little more insight in wrist sizing for bracelets, happy shopping!