We have lived in our current home for about 12 years now. We fenced in the backyard when we moved in because we had a large dog that needed space to run, but had an issue with running towards the road. Sadly, the dog died just a few years later and we decided we would keep the fence. It was a smart decision because we now have children and a pool. It is nice to know we can play in the front yard without worrying about the kids going to the pool.
Due to other projects, life and the expense we have not spent a lot of time updating the look of our backyard until this year. We finally decided that we would spend more time out there if it looked better! So, I began my search for ways to decorate the fence in an inexpensive and quick manner. Here are a few ideas that have worked for us or that we plan on trying.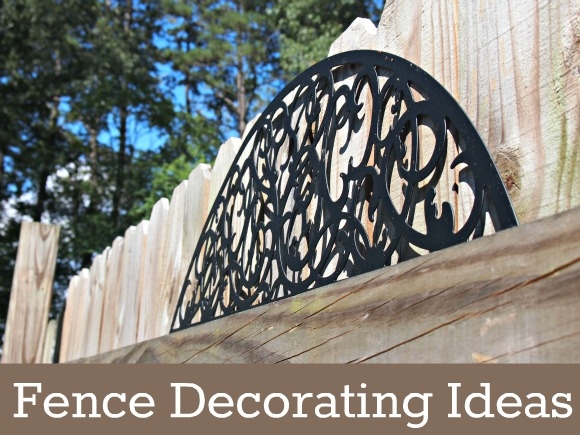 Use What You Have
Last week's post was all about how to repurpose things around your home for decor. Well, we took this idea to our backyard as well. I found a few candle holders that were taking up space and decided that they would make pretty cool decorations for our fence. These particular candle holders have magnetic bottoms so that you can change them out seasonally. Because of their rounded shape they made perfect accents for the top of our fence. I just spaced them out and in between the posts. I plan on using the candle holder to write a fun word or maybe our families initials in the holders and hang it on the fence as well.
Old Rain Boots
The boys are growing like weeds and we have several pairs of rain boots that they have out grown. I generally will donate them or pass them down to friends, but we have decided to use a few pairs as cute planters for the fence! Just add potting soil and your favorite plants and flowers to create a gorgeous look. Besides, they are already ready for the elements! Just use a metal hook and drill a small hole in the back to hang.
Metal Buckets
Not only can you paint the buckets to add a touch of color, but you can use them for so many things. Of course, you can hang them for planters, but why not use them for organization? I love the idea of arranging them in rows to hold things like small pool toys, gardening tools, and clothes pins. If you purchase buckets with handles you can simply hang them on nails and take them down when you need to access items.
Let The Kids Have Fun
I'm not sure if I am brave enough to do this yet, but when the kids get a little older I would love to let them have a few sections of fence to make all their own. All you would need are a few paint brushes, stencils, paint and a kid with a great imagination. I've seen a fence that a grandmother let her grandchildren paint and it turned out precious! This is also a great way to preserve memories for future generations.
What ways do you spruce up your fence? I would love to hear your tips for inexpensive decor ideas!