As the year winds down, we gear up for the holidays. We shop, cook, wrap presents, bake, host and attend holiday parties, work events, and decorate the inside and outside of our homes. December is always a whirlwind of activity. Through it all we find ourselves with paper cuts from wrapping presents, flour in our hair, last minute RSVPs that make you re-jig the dinner table setting. And the dreaded mall parking lot! It's no wonder we get a little grumpy.
There's no doubt we will go to the store or the mall for stuff we need for decorating, ingredients, a new party outfit and of course gifts. But what if you could save a little money this holiday season? The last couple of years have been tough on most of us, economically, on a global scale. So how about using everyday items around your home to make this holiday special & unique?

Here are some budget friendly ideas for decorating.
Cynthia Dermody and Rachel Hofstetter of Reader's Digest have provided 27 holiday decorating ideas for 2012:
If you have stemware that you don't normally use, or don't anticipate using for a party, fill them with colourful candy, candy canes, pinecones, tea lights, small ornaments or other small holiday décor. Crafters who work with small materials, can fill the glasses with holiday colours of beads, sand, pebbles, layered yarn inside the glass, or other little holiday themed trinkets.
String the holiday cards you've received & hang them across the fireplace mantle or across the middle of a wall. Or display them on tables. Even put them in frames you already have hung on the wall. This will change up the pictures and provide a temporary festive feeling.
Gather some candles you may have stored somewhere, if they are different shapes and sizes it's all the better. Tie ribbons or wrapping paper around them, gift wrapping ribbons will do. Group them together on the mantle, a side table or as the centrepiece for your coffee table. If you plan on lighting them, be sure to remove the paper or ribbon beforehand.
Put some long dinner candles in old wine bottles as a non-traditional centrepiece, cluster them together or space them out. They'll offer a very vintage look to your décor, especially the red wine bottles.
Use any extra tree lights or outdoor lights to drape around the chandelier or hang them from the mantle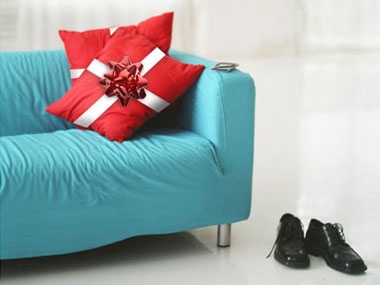 Tie a ribbon around couch cushions and add a bow so they look like a gift.
If you have extra tree ornaments, fill them in a bowl or tall vase, and use as a centrepiece on the dinner table or on a table by the front door.
Spray paint dry branches or leaves from outside with gold or silver and place around the house. This also works with pinecones which you can hang from the fireplace mantle or chandelier.
Make your own tree ornaments with the kids – always a fun family activity when glue and glitter are involved. Also makes a great keepsake.
Fill glasses, the oddly shaped the better, with water and add food colouring to give it an extra hint of colour, then place some floating candles inside.
Spend your holiday this year, creating and decorating with your family and kids. You never know you may also create your own family holiday tradition. Happy Holidays!
Feel free to share your budget friendly holiday tips and ideas.
Photo credits – Reader's Digest