If you're just about to lose your hair and feel that hats just don't suit you - read on. We hear from many clients who think just that - it's probably simply the fact that you haven't found the correct hat style, and shape that works for you. The secret is to find headwear that compliments your face shape. Our headwear for hair loss page can provide further ideas and info' on the many hat styles available to try.
In part 2 of our series 'What is The Best Hat For My Face Shape?' we move on to look at square and oval shaped faces.
Square Shaped Faces
The most noticeable characteristics of a square shaped face are a wider strong jawline. Hats with a brim can visually narrow a wider face. Styles with circular elements can help to soften a square profile, so headwear with round crowns and brims are good choices.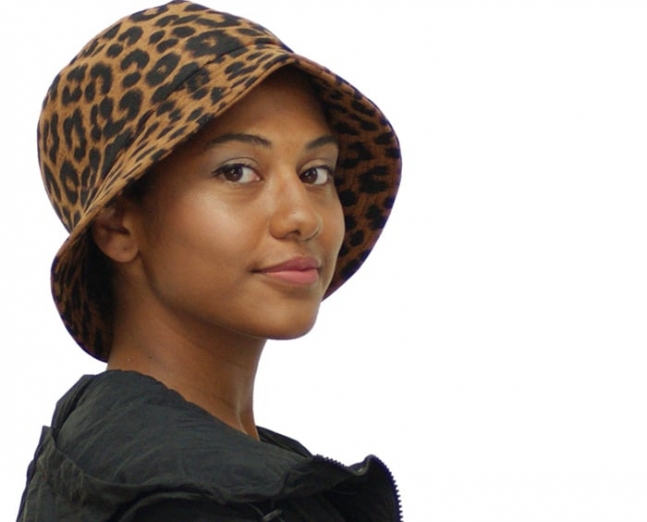 If you fancy a modern take on the cloche hat take a look at bucket hats - our showerproof leopard print bucket hat brings a contemporary update to the style. Berets are another great option - the fuller width of the hat style balances the strong lines of a square face. Tilting your hat off to the side and wearing it wonky can help, as can asymmetrical shapes to hats and turbans.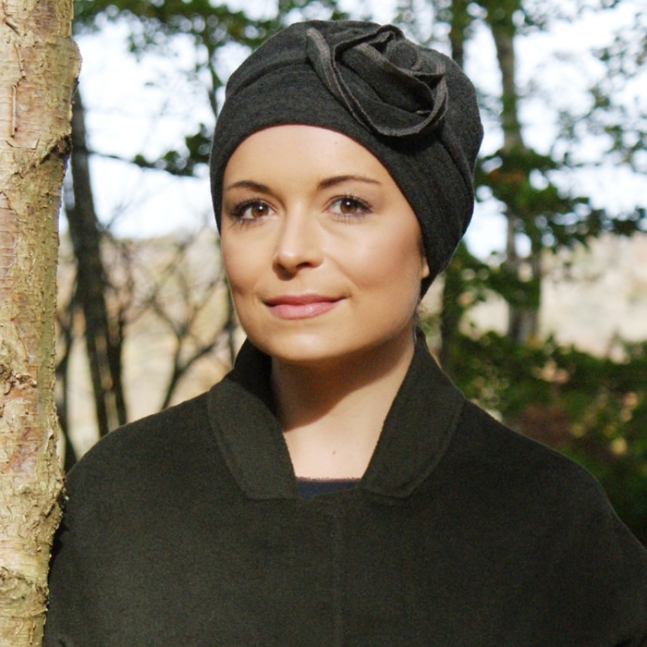 Our soft structure Esther winter hat (seen above) has a fuller crown shape (it goes outwards either side of the face). The large flat 'flower' twist gives the hat its asymmetry and draws attention away from the jaw line.
Try to avoid hats with short brims, no brims, squarer angular hat shapes, or turbans with a taller shape, rather than width at the eye line. Still unsure as to which face shape you are? Take a look at some of our famous square faces here Amy Poehler and Lucy Liu.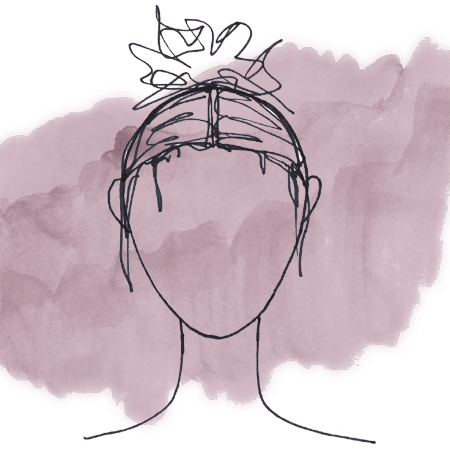 Oval Shaped Faces
Oval faces are longer than they are wide, with chin and forehead about the same width. Oval-shaped faces look good in almost any style of headwear!
It's perhaps best to avoid hats or turbans that add a lot of height at the crown. This can make your face look even longer. Oval faces can be described as oblong faces, depending on the length of the face versus the width. If your face is a bit longer and narrower than most, headwear can be the perfect way to balance that out.
Hats with brims and cap peaks can visually divide the length of your face, making it seem less elongated. Our model is seen here wearing Harper - an over-sized Baker Boy cap shape - the style has plenty of crown volume around the face to offset the length.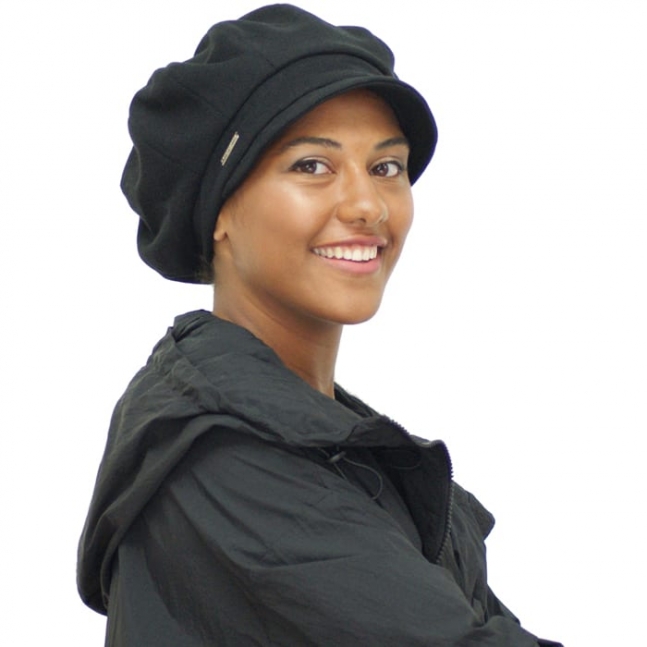 Decorative side trims and side knotted turbans work well for oval faces. Our model shown below wears one of our long turban tying scarves, with the knot well over to the wearer's left - it could be worn further round in front of her ear. The best way to see what suits your face shape is to work in front of a mirror, sliding the turban knot around your face to see where it looks most flattering.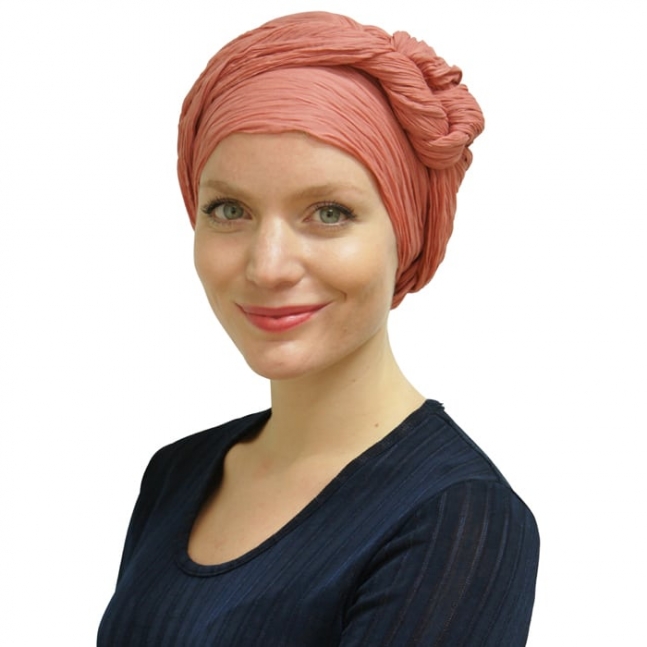 Another adaptable style shown here is our Sabrina head wrap turban, we've tied it in such a way to keep the height down on top of the head, flattening the jersey out but twisting it at the sides for volume here between the eye and jaw line. There are no hard and fast rules but by working in the mirror you'll soon see what 'suits' your face and what colours suddenly pick up your eyes. Most of us head for muted colours - navy, black, grey, neutrals, but it really is worth considering a brighter jewel colour. Worn around any face shape they lift the palest of complexions and help us to look less tired!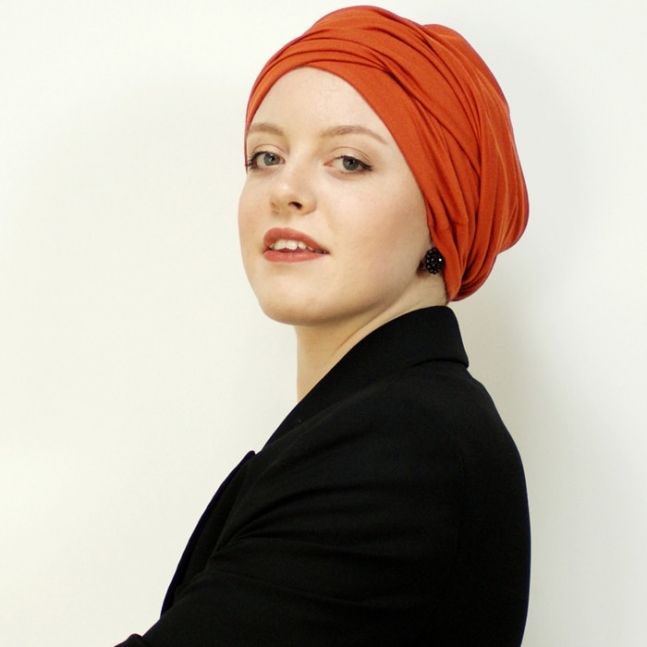 Famous faces with oblong faces include Pink, Sarah Jessica Parker, Rihanna, Gwen Stefani, Nicole Murphy, and Anne Hathaway
Read on for Part 3 of our guide - Find the Right Headwear for Your Face Shape.
Ordering the Right Headwear
Don't forget, in addition to finding the right headwear for your face shape, it's important to measure your head so that it fits well. Our guide to how to get your hat measurements is located here.
Fit is important, apart from the comfort factor, it helps the hat to sit right and look at its most flattering all day.
If you aren't sure what to order or if you have any questions, please call us at +44 (0)1306 640 123, Monday – Friday, 9:00-17:00 GMT.