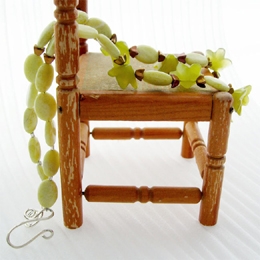 As I constantly try to upgrade my product photos, I am challenged as an amateur photographer! I have tried so many phases of backgrounds and staging for the jewelry product, it is not funny! With my point-and-shoot camera, I can only do so much, but believe that my photos have increased in value over the years. I have a Cannon A series camera that is the best value in the under $200 range. It has lots of manual settings that you can't get with other brands at that price. This little camera has helped to upgrade my photos a bit.

Lately, I have gravitated to plain white backgrounds for my primary photos. You can see this at the GalleriaLinda Jewelry iCraftGifts.com shop.

Recently though, I started thinking of creative staging of some jewelry items that found me rooting through cupboards and boxes of old treasures. I found my original doll furniture and thought - why not?!

Here are a couple of photos taken of jewelry on my doll furniture. I like the concept but am not quite there yet and I will be trying more shots and staging with this concept.

I found some old sterling silver tableware that were completely oxidized. I love the oxidized color and found it to be a fabulous contrast to the jewelry.

Take a look around your house for your treasures to try and set aside a fun day of staging!

If you want to see some great examples of fabulous handcraft product photo shots, go to craftgawker.com. It is a juried online show of the best of best in handmade and vintage product photography! And, CraftGawker accepted GalleriaLinda Jewelry photos that can be found there too!