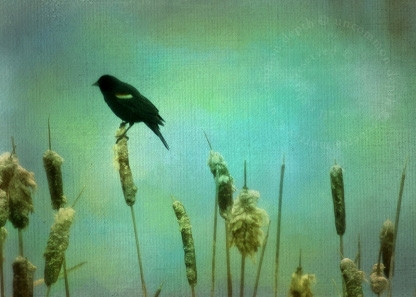 The artwork of
Roberta Murray's
shifts and changes before your very eyes. Each image's narrative, seems to move sideways and flicker, then aligns to suit your personal gaze. Through the use of texture, form, and light, Roberta creates images with a rich tapestry-like depth. The resulting forms are images with a nostalgic, fairytale quality as though taken at a different time or in a different world. The imagery reflects Roberta's long journey to this point in her life…
Born in Calgary Alberta, Roberta spent a lot of her youth in the ranching areas of southwestern Alberta, where she thrived on tales of the old west. She spent as many of her weekends and holidays as possible in the country. Art was a major part of her life during this time, and it was rare to see Roberta without a sketchbook or camera. She took her first photographs using her father's camera when she was two. The only time she didn't have a sketchbook or camera in her hands was when she was outside trying to convince someone to let her ride a horse!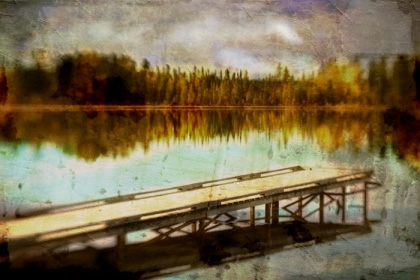 Roberta spent her teenage years working in camera stores and developing labs, trying to learn as much as possible about photography. During school she took every art class possible, and began entering her photographs in local fairs and won several ribbons. In the 80's after she finished her photography course, Roberta tried her hand at taking a few portraits and shooting some weddings. However, this was a painful process for her, Roberta was shy and found her heart just wasn't in that line of photography.
Then In the early 90's Roberta and her husband bought a small farm and moved out to the country to Rocky Mountain House. Selling her photography equipment, Roberta gave up photography altogether except for the usual family snapshots and holiday photos.
Roberta and her husband began their own business raising fibre producing livestock – first with a flock of Angora goats and then Shetland sheep. Roberta started a website to advertise the products from their livestock, eventually buying a digital camera, which at that time was still rather large and very expensive, to photograph the products for the website.
Roberta became heavily involved in the fibre arts and earned a Master Spinners certificate from Olds College. The final year of the spinners program was an intense period – Roberta found herself involved in many fibre related activities, whilst completing a compulsory in-depth study for the programme and also working with the College to rewrite some of the programmes existing content! Discovering she needed something that would get her out of the house and give her something else to think about Roberta began taking pictures once again…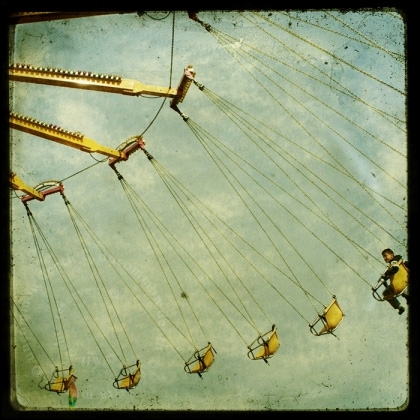 Roberta soon started a photoblog as motivation to get outside and take a new photograph every day. It didn't take long to realize how much she really loved and missed photography. The tides soon started to shift, and little by little photography became the bigger part of her life while fibre arts took the back seat.
A few years ago, Roberta began submitting her work to juried gallery exhibitions and offering prints for sale. The response was overwhelmingly favorable. Today she is represented by Soho Myriad in the USA, and First Light in Canada for stock images. Roberta has work in Arts On Atlantic gallery in Calgary, and is involved in many other gallery shows throughout the year. Her work is held in private collections across Canada, the United States and Europe. This spring Roberta was juried into the Alberta Society of Artists, which was a huge honour.
Today, Roberta lives in the country southwest of Rocky Mountain House, Alberta with her husband and a miniature poodle that runs the place, as poodles are known to do. Their land is surrounded by wilderness and the largely natural state of the land and the diverse range of plants and animals which call the area home, provides much of her inspiration, and is the source of many of Roberta's images.
Roberta, your work is so evocative and otherworldly. Could you describe in your words what it is that you do?
I work mainly with digital imaging to create composite photographs. By the use of light, texture, layers, and form, a tapestry into another world unfolds before me where the distinction between past, present, and future becomes muddied. Hand painted textures and colours may be used to give an image a vintage or surreal presence. A scanner (itself just a large clumsy form of digital camera) is sometimes used to digitize film based images and hand painted textures or colours. Form and colour are often isolated from the landscape through the use of motion or blurring to highlight the delicate beauty that may be seen only in the subconscious. Finally, merging high tech and low tech cameras helps to create the impression an image was taken in a different place and time.I create fine art limited edition photography based pigment prints. Last summer I purchased a large format pigment printer and am now hand printing each of my prints. This has opened up the doors for me to be creative during the printing process. I have done a small number of one of kind prints on handmade Japanese washi paper, and I've also made prints on top of hand painted abstract watercolors. Many of my photographs are digitally layered with textures from paintings I have created specifically for that purpose. Being able to print directly onto the painting has been a very exciting process for me.
What made you want to start up this business?
It just kind of evolved. It started off with a photoblog. Family and friends began to want prints of my work, so I started offering prints for sale to people who were following my blog. And I started entering gallery shows as well.
Where do you work from?
My home studio is on our farm south west of Rocky Mountain House. We live in a forestry area which is one of the most popular recreation areas in Alberta. Our farm borders crown land on the back and is largely in its natural state, so we have a diverse range of wildlife that surrounds us. Many of my images are taken right outside the door. But I also travel quite a bit taking photographs. I love the prairie's and love to photograph there any time I can.

How do you promote your business?

The main focus of my business is the gallery work I do, so most of my promotional activities are centered around that. For my online store I use word of mouth, and advertise through my blog, Twitter, and other online networking.
What are you working on now?
I have several projects I'm working on right now. The most exciting for me is preparing prints for several upcoming shows. I have 4 gallery shows I'm in over the next couple months, including the Calgary Stampede's Western Art show. I am also working on a series of western images. I was recently able to attend and photograph a cattle branding; and this past weekend was our local rodeo which I photographed; and for the first time filmed.
What do you do in your spare time to inspire you?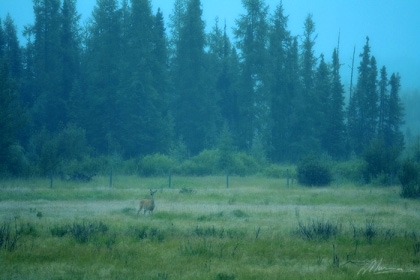 I don't know if it really inspires me or not, but I still knit daily. I also like to cook, garden, and I enjoy bird and nature watching. Inspiration isn't really a problem for me. It comes from just living life and seeing the beauty that exists around every corner. I can take a drive and see hundreds of photos waiting to be made around every corner. If you asked my husband he would probably tell you that it can be frustrating to travel with me because we have to stop so often (and I let a lot of potential photos go by so as not to frustrate him too much!).
Also at least once a month I travel to take pictures. Sometimes it's just a day trip, or a day spent somewhere local, or I might go for a couple days. More and more I am planning and making trips for a specific purpose, like a couple months ago I went to photograph the migrating Snow Geese at their staging grounds. Or last month when I went to photograph the cattle branding.
Like the imagery she creates, Roberta Murray's past and present shifted and aligned itself to come full circle – and we are so glad it did! See Roberta Murray's work in her
iCraftGifts.com Exhibit
.
Footnotes:
Image Credits: Roberta Murray © 2009
'Perched', 'When I Was Young', 'Playing Alone', 'Far From Nowhere' and 'Big Red Barn', 'Steady Rain' taken in Roberta Murray's backyard.