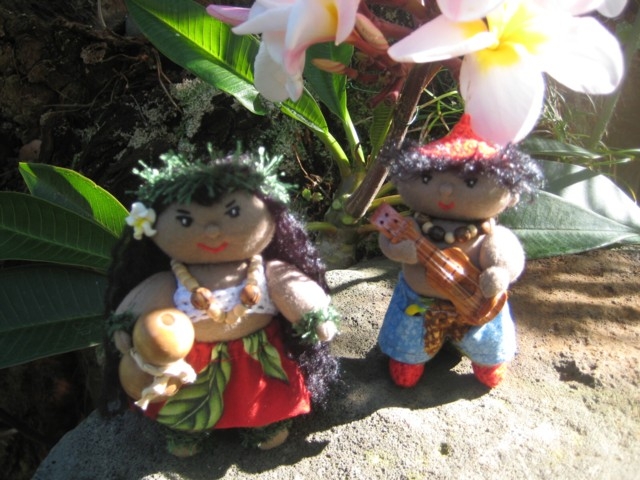 Following an inspiration, I started creating miniature dolls. Something which I would have never thought I had the patience to do has become my most cherished occupation. For me, it is the most thrilling experience to look at a finished doll and see that it has come alive. It actually has a soul and a story to tell.
I write each babies inspirational story using many Hawaiian words, as well as following concepts of Hawaiian spirituality and culture. The story is a very important part of the doll because it reflects their personality and conveys guidance, protection, and inspiration.
I commit a lot of creativity, detailing, and love to each individual doll. Sometimes it takes a long time to finish a Menehune and his or her cradle because I don't stop working on the baby until it has a spirit and a soul. I put a great deal of my Mana(spiritual energy) into each individual Menehune until it becomes a part of me and I fall in love with him or her. As a result, I get very attached to each doll and it is always difficult for me to let go of him or her. I put so much time and energy into each doll. It makes the Menehunes priceless.
My main objective with Magical Hawaiian Menehunes is to bring joy and inspiration to people.
Here is part of Ipu's, the little Menehune drummer girl's, story:
Ipu is a Menehune Kaikamahine (Girl). She honors the presence of life by chanting and dancing to the sacred rhythm of her Ipu (gourd/drum) which she is named after. Ipu is a Menehune Kamali'i Wahine (princess). The green feather leisaround her head, wrists, and ankles are made for the Ali'i (royalty)and believed to link to the divine.
Ipu's Hawaiian Kukui Nutlei represents Light, hope, and renewal. Her beautiful, long, black hair is adorned with a white Plumeria flower.
Ipu invites you to celebrate all that is sacred with her. Let all your cares fall away, discover that which brings you joy, and soar with Ipu above all limitations.
In the evenings her brother Kahiki accompanies Ipu in her chants with his Ukulele. All the Menehunes love to listen to them. Together they sing about their Aloha Aina (love of the land). Their baby sister Ho'oli claps her hands with delight to the rhythm of the music….
Image credit: Hawaiian Menehunes