Fairy Cardmaker, who makes wonderful, whimsical paper goods and cards, started a creative challenge for designs inspired by the "elements." The challenge is open to artists and crafters of any media.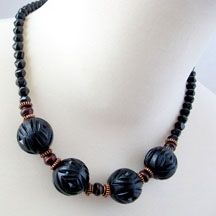 Challenges are always incredible as they make you think outside the creative box and truly think about your designs in a deeper level. The challenge for the element Wind has been completed. We are now into the element Earth challenge.
As a jewelry maker, I pondered all the earthy colors, textures, rocks, gems that I have to work with. When I finish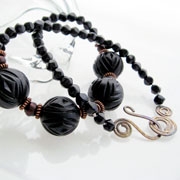 ed this necklace, I found that it immediately evoked a feeling of primitive earth, maybe even tribal.
The black focal beads are vintage, large, and are semi gloss with a stippled texture. They are heavily carved with a geometric design that made me think of jungle dwellers carving seed pods for jewelry!
I paired the vintage focal beads with a few matte-glazed Czech glass dimpled rounds in a very dark, midnight maroon metallic to accent the dark pieces. When I added the Bali-style antiqued copper spacers, they added such depth and glimmer. The rest of the necklace was completed with smaller glossy black, baroque-shapped Czech glass beads that added a lot of texture to the piece and mimicked the carved texture of the focal beads.
GalleriaLinda's clasps are usually handmade in shiny sterling hammered wire, but this time, the clasp was oxidized slowly to enrich the design. It was as if the clasp had been buried by tribes before and was dug up from the jungle floor to complete the necklace!
This has a subtle shine, just like when the rain gently washes the rain forest. I can hear the early morning jungle noises now - can you? What do you think of when you see this design?
This piece will soon be in GalleriaLinda's Contemporary Handmade Jewelry shop.