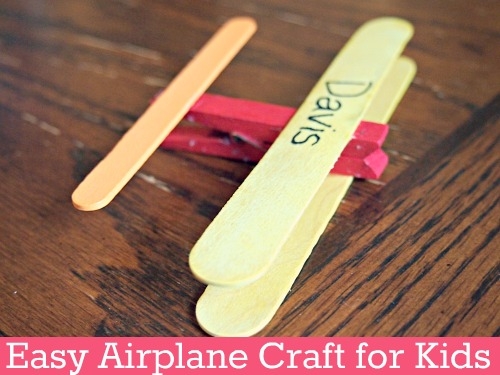 Because I have two small boys I am always on the lookout for fun craft ideas we can easily do together that they will also enjoy. Of course, it needs to have very few steps and be something they are interested in. My youngest son is intrigued with airplanes and exclaims, "Plane!" every time one flys by. It is so adorable! So, I wanted to create a craft with the boys that was airplane themed.
What You Will Need:
1 clothespin
2 large popsicle sticks
1 small popsicle stick
hot glue gun or wood glue
acrylic paint in your choice of colors
Instructions:
Paint your clothespin and popsicle sticks in your color of choice. Set them asdie to dry for about 2 hours.
Hot glue one of your two large popsicle sticks to the clamped end of the clothespin. Make sure to leave the tip of the clothespin sticking out some.
Hot glue the other large popsicle stick to the other side of the clamped end of the clothespin to create wings.
Glue the smaller popsicle stick to the opposite end of your clothespin for the tail of the airplane.
If you are using wood glue you will need to let this sit for a few hours before handling.
Enjoy!
A great idea for these would be to tether them to fishing line and hang them from the ceiling to decorate a room or for fun party decor. The boys love flying their airplanes all over the house!
What is a simple craft you love to create with your kids?