I love cupcakes... and cake. I love pretty much anything involving chocolate and frosting. I'm the designated baker in my family and group of friends, so I'm always trying to learn new cupcake and cake decorating techniques.
For my nephew's first birthday party, I made both a cake and cupcakes--both decorated to compliment the golf theme. I made a basic buttercream and used the Wilton's icing coloring to make a big batch of green. I find the icing coloring better than regular food coloring and it only requires a tiny amount to color a large amount--since it is a gel, it doesn't affect the consistency of your icing and the color is much more intense. Plus there are a TON of colors to choose from! You can find it at any baking supply or craft store.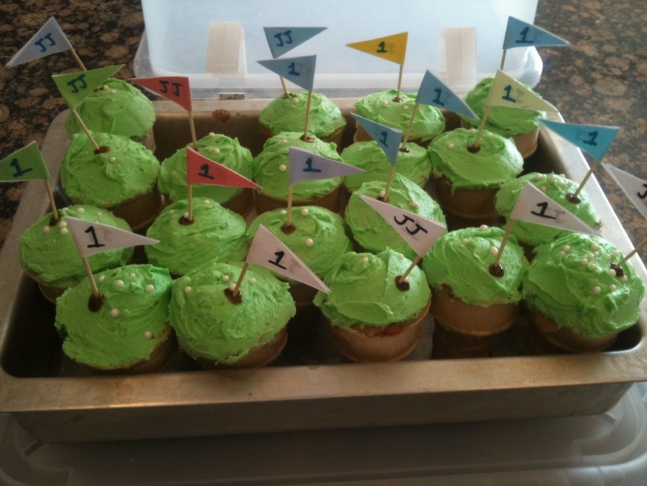 For the cupcakes, I actually made cupcake cones--which are a family favorite. They remind me of my own childhood!

You prepare the cupcake batter as you normally would, but instead of pouring the batter into muffin tins, you fill cake style ice cream cones 3/4 full.

I wrap each cone in foil to avoid burning and in case any batter leaks out. Bake according to cupcake recipe directions and voila! cupcakes in a cone!

I frosted these with my green icing and then started to decorate! I found a cupcake flag template online (google "free cupcake flag template" and tons of options will pop up!) and printed it out. I put the number 1 on one side and my nephew's initials on the other, since it was his 1st birthday party!

I glued each flag on to a toothpick. I used brown decorating icing to make a "hole" on each cupcake and then stuck a flag in that spot to simulate the pin on a golf green. I then used some white sugar pearls as "golf balls" to scatter on each cupcake. The cupcake cones I decorated were a big hit at the party!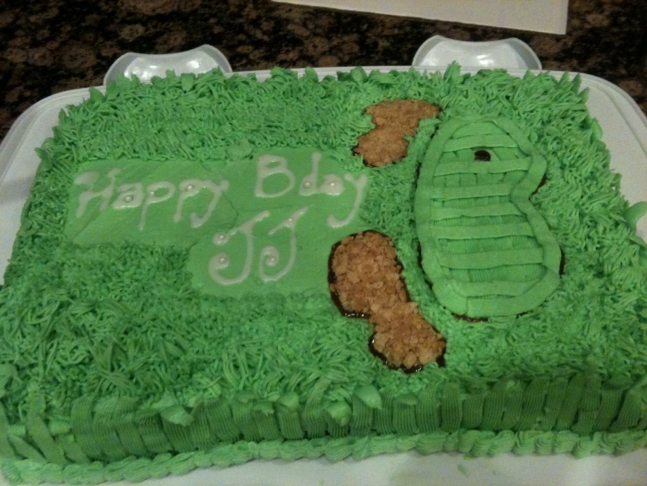 I also decorated a cake to go along with the golf theme.

I used the same frosting from the cupcakes, but used a decorating tip to make the grass (Wilton decorating tip 233).

I crumbled up graham crackers for the sand traps and outlined them with brown decorating gel icing. I still need to work on my lettering skills!

I used another tip to create what looked like long blades of grass coming up around the edges of the cake. I had such a good time making this cake, but it definitely was a learning experience!
I was also in charge of cupcakes for a friend's bachelorette party, so I decided to decorate them as "girly" as possible. I got some heart shaped molds and made chocolate hearts to put on the top of each cupcake. I'm sure you could just buy them, but I tend to go a little overboard and make everything homemade!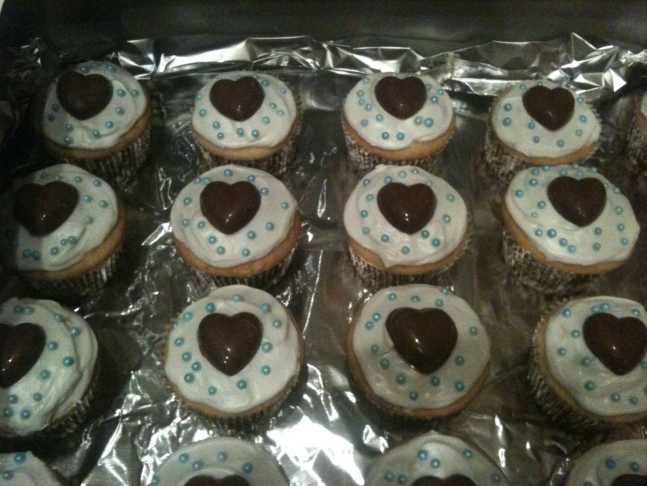 You can't really tell from the photo, but I bought cupcake liners with a pretty brown damask pattern. My girlfriend's wedding colors were blue and brown, so I wanted to stick to her color palette! I made a plain vanilla buttercream and put a chocolate heart on top of each one, along with blue sugar pearls for a little crunch--and to make sure both her colors were represented :-)
Cupcake decorating is all about having fun!

Buy a few different tips to experiment with and some disposable pastry bags--those make cleanup so much easier! You can even use regular plastic baggies, although the tips fit into the pastry bags a bit better. If you do use a baggy, cut a small hole in the corner and then put the tip down into it. You can always cut a bit more if you need to, but you don't want the hole to be too big to start. Then spoon your frosting in and you are ready to go!

I was playing with a star tip when I decorated these pink champagne cupcakes for New Year's Eve...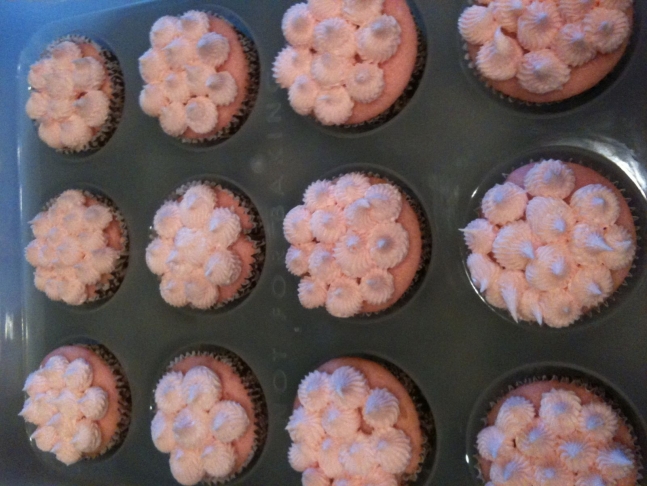 I am not a professional cupcake decorator by any means, but I do like to try to make them look pretty.
At least I know people will be able to tell they are homemade :-)
How do you decorate your cupcakes?