Could you use a Belle Ami? (a beautiful friend, that is) to help you expand your wardrobe. Its a jewellery accessory that will always be there for you when you need it.

At JaJeJems we have been working on developing just such a beautiful friend to add to our 2013 fall collection. We have been thinking about the concept for quite a while, trying to put together a product that would be pretty, practical and flexible. We think that we are nearly there but could use a little assistance from our peers and potential customers to take this design to completion. Have a look at the idea and then let us know what you think!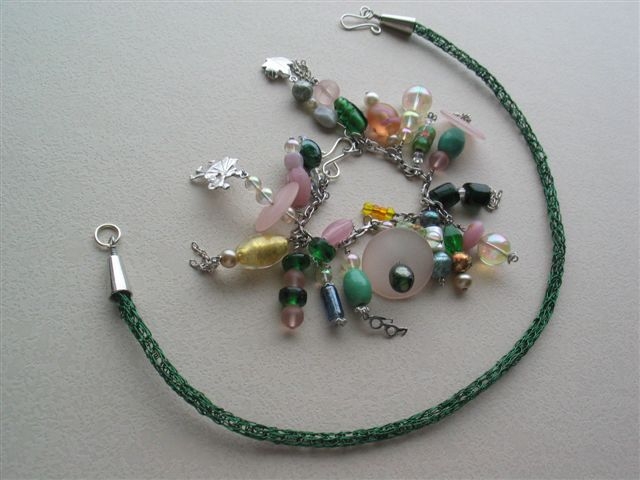 The Basic Concept
A Belle Ami is a piece of braid or chain with a hook or clasp on one end and a ring on the other end. It is designed for a number of purposes:
1. use it alone as a bracelet, wrap bracelet, choker or necklace
2. use it as an "extender" to add length to a favourite necklace
3. add a charm, a wrapped piece of sea glass and a lampwork bead to design your own charm necklace (like this one)
4. use it as a "converter" to turn a bracelet into a necklace

Because there will always be a clasp at one end of the Belle Ami and a ring at the other, it will easily connect to whatever piece of jewellery that you need to extend or convert. This will also allow you to use it by itself or as a charm necklace or bracelet.

How do we make Belle Amis?
We are planning to make our Belle Amis from Viking Knit chain or Kumihimo Braid.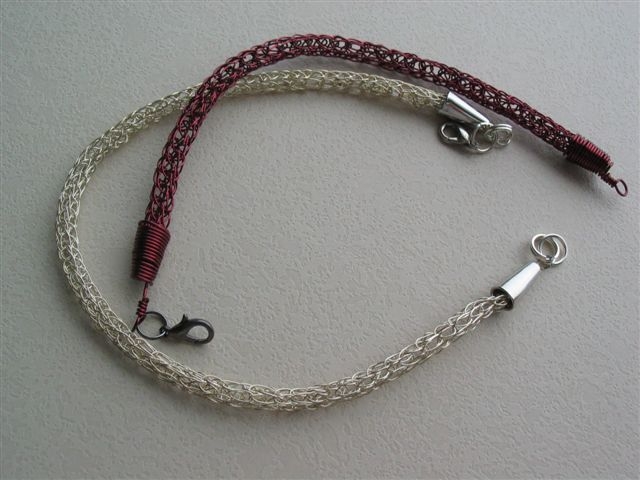 Here you see two pieces of viking knit chain. Up until now we have been using viking knit for making necklaces and bracelets. Here is an example of the use of viking knit chain in a necklace, An Irish Blessing. Viking knit chains for Belle Amis will come in brass, silverplate, copper and a variety of coloured wires.
Kumihimo Braids are another option for making Belle Amis. Apple Pan Dowdy - Lampwork glass apple on Kumihimo cord is an example of how we have been using these braids in necklaces.

Shown here are a few samples of the different colours and textures that you will be able to choose from if you prefer a Kumihimo Braid for your Belle Ami.
In addition to making our chains and braids we are also working towards making all of our own clasps and findings to give our pieces a uniform look.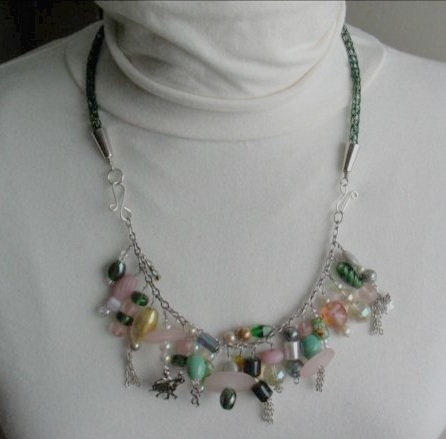 What sizes of Belle Amis will be available?
We are planning to make Belle Amis in the following size ranges:
1. 6 - 10 inches (15 - 24 cm) - suitable for a bracelet, an extender for a necklace or a converter to turn a bracelet into a necklace
2. 16 - 18 inches (40 - 46 cm) - recommended for a necklace, charm necklace, wrap around bracelet or a converter to turn a braclet into a necklace
3. 20 - 28 inches (51 - 71 cm) - suitable as a necklace by itself or for a charm necklace
What about the Price?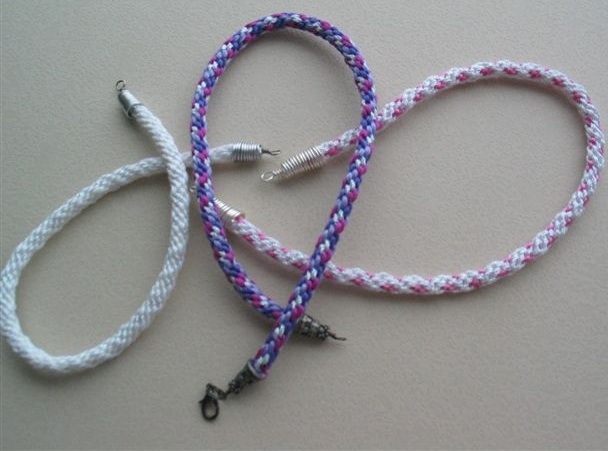 Depending on the length of the Belle Ami, the price range will be from $10 CAD to $20 CAD. If you design your own charm necklace or charm bracelet, there will be an additional cost for the wrapped sea glass, charms and lampwork beads.
So now what do you think?
We think that we have a great idea but it will only be great if it is useful to our customers. We value your opinion, so while we are busy fabricating Belle Amis, please send us your comments either below or by contacting us through our store. Thank you in advance for sharing your thoughts!