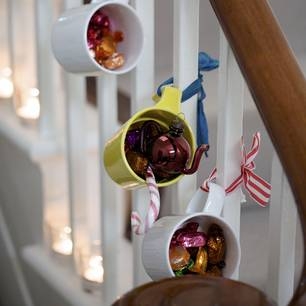 As we approach the now very close big day, no doubt the majority of us have the main aspects covered, the tree, the presents and well stocked food cupboards. Sometimes, I find that I want to add those extra finishing touches to the decor, but amongst all the things that put our lives into overdrive over this very busy period, it's hard to take the time out to make everything happen.

This final week before Christmas is often the only time that we get a slight breather – a day off, or an hour or two out here and there to make our Christmas that extra bit special. I picked out a few quick and easy decorating ideas I found while browsing for last minute holiday inspiration. I hope they help you as much as they helped me – I will be trying them all out!

Christmas is all about treating yourself, so these 'Cups of Cheer' decorations are an adorably easy way to add some fun in your decor whilst adding an element of indulgence to the whole affair. Tie mismatched mugs with mismatched ribbons to stairwells or doorhandles and fill with brightly coloured wrapped sweets for all your lucky guests!




If you only decorate in one other way apart from your tree, make this one it. These Bauble Strings are an oh-so easy and delightfully striking decoration idea. Thread masses of cheap, but glitzy baubles onto long ribbons and hang from hooks on walls or tie on the backs of chairs. Or choose strikingly modern colour combinations like the chandelier-like one below to add more of an impact.
| | |
| --- | --- |
| | |
These metallic Silver Paper Chains are so easy to make and add a really contemporary twist to your decor. I love how these ones casually drape across the table giving the whole setting a glamorously casual tone.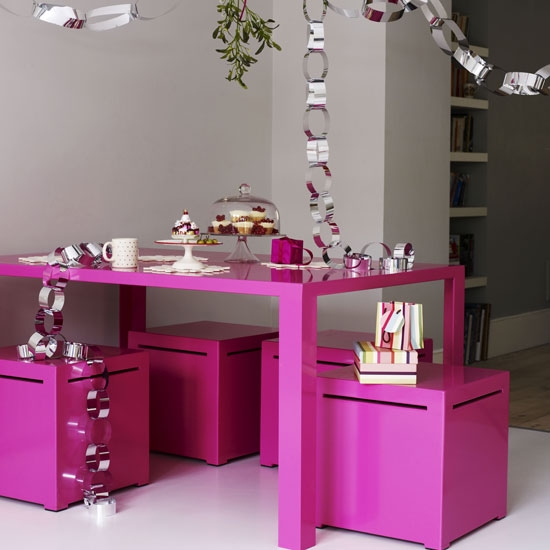 This is a quick but courageous idea…paint the risers of each step a bright red just for the Christmas period – you an easily paint over them afterwards!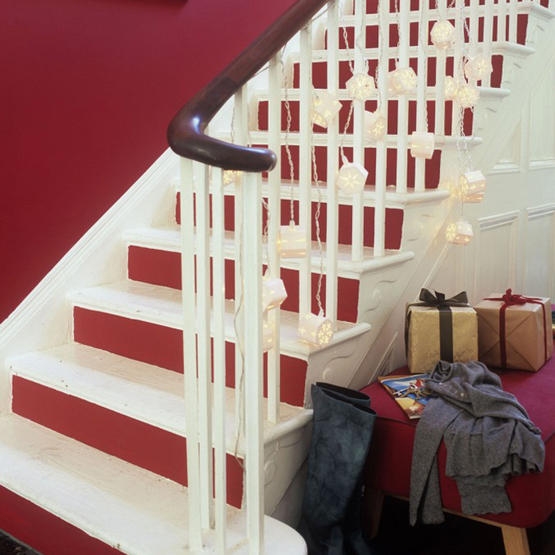 Ribbon Cards – I love this idea of freeing up the mantelpiece or sideboard of cards by creating a star out of ribbon and wall tacks to create a simple card display. Why not use this after Christmas too, as an alternative style of mood board or even a more exciting version of a household notice board?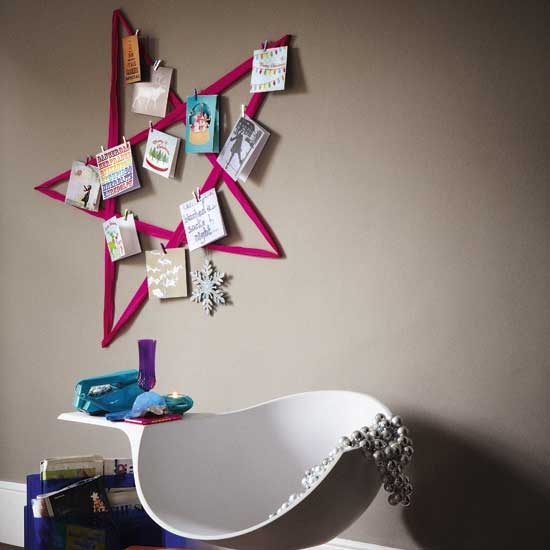 This setting is so cosy and wholesome. Adding to the subtle charm are these subtle snowy decorations made from pom-poms which are such a sweet and simple garland idea.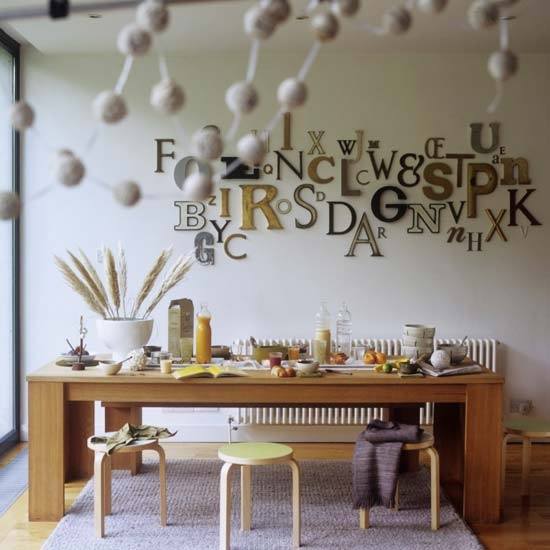 What a great alternative these red wreaths are to the usual kind, bright and graphic, hung in groups they are an instant way to add interest to a stairway or hallway without looking fussy. These ones are made of Juniper and would smell amazing on the days leading up to Christmas!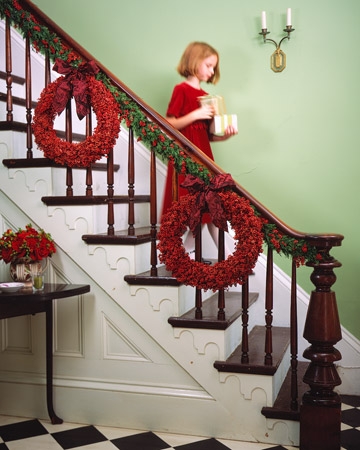 The use of candles is a traditional way of warming up the home but we sometimes forget how instantly festive they make a Christmas setting. Here, single tall candles are dotted around the long table amongst platters of food to create a charming bygone atmosphere.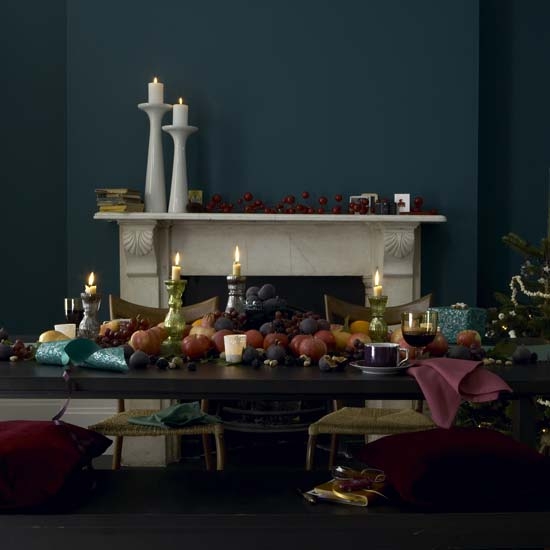 For sweet and quick decorative touches, add tree ornaments to the back of your chairs, keep to simple forms like stars and snowflakes for an elegant effect.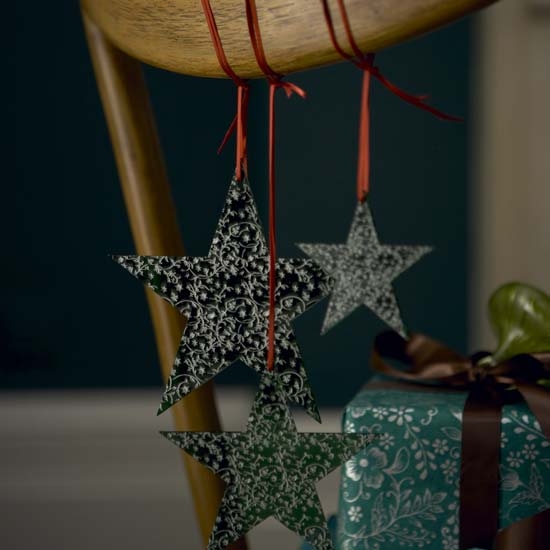 Some iCraft goodies also tie in with all these easy ideas for adding quick Christmas flair – like these Origami Christmas Trees by Sachiko Koguri which could be used as a table centrepieces on either side of a fireplace…

| | |
| --- | --- |
| | |
and these on-trend 'Hope' and 'Love' font candles from Crystal Lights.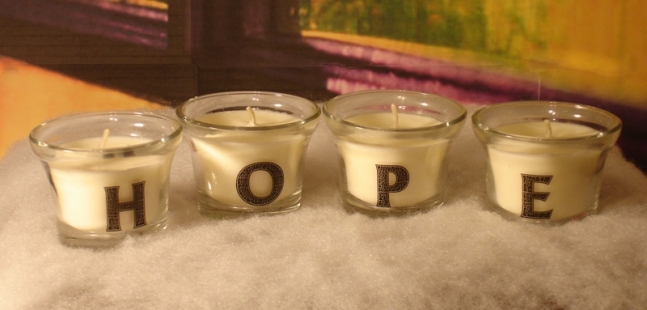 To extend the festive touches throughout the home, Zac Soaps has a cool collection of wintry soaps in the shapes of snowflakes, snowmen and Christmas trees.



I'm off to try out these ideas – let us know if you decide to give any a try [especially the red stairs!].

Photo Credits: www.livingetc.com, www.marthastewart.com