What can a bride wear on her wedding day if she is experiencing extensive hair loss?
We receive emails from many clients with long term hair loss concerns asking what they can wear for their 'big day'. It seems there is little out there when it comes to stylish bridal headwear that completely covers your head.
Beyond the 'beanie': bridal headwear that is beautiful in its own right
We're not talking cream beanies (!) but beautiful, elegant headwear to complement your stunning gown. So after much sampling and a good hunt for a range of soft cream jerseys, we are pleased to introduce our new range of bridal headpieces that not only provide complete coverage but also make a chic and stylish fashion statement on your most important of days.
The styles modelled by the lovely Esther caused quite a stir when we were photographing them for our shoot at the Grace of Westcott bridal shop, wearing a beautiful gown by Johanna Hehir.
A couple of brides visited whilst we were doing the shoot and loved the styling, (they had no idea this was a shoot for hair loss).
Suburban Turban bridal headwear collection, 2014
Style One: Silk tulle/satin jersey hat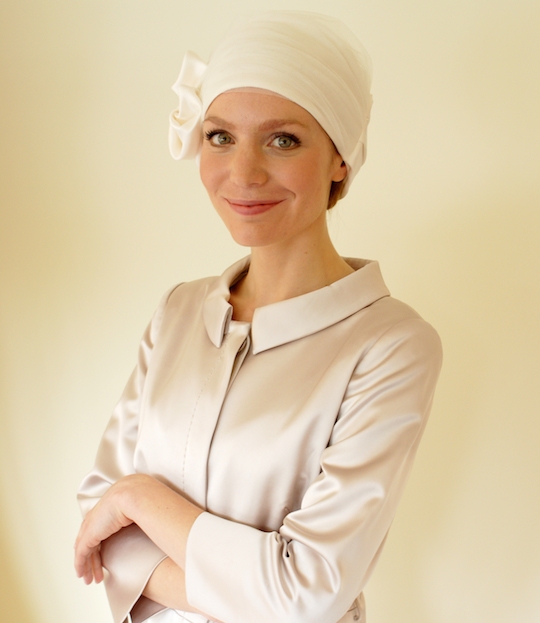 Silk tulle and satin are wrapped around a cream jersey base that stretches to hug the head of the wearer. The drape detailing goes all the way round the hat, ensuring 360° elegance from every angle!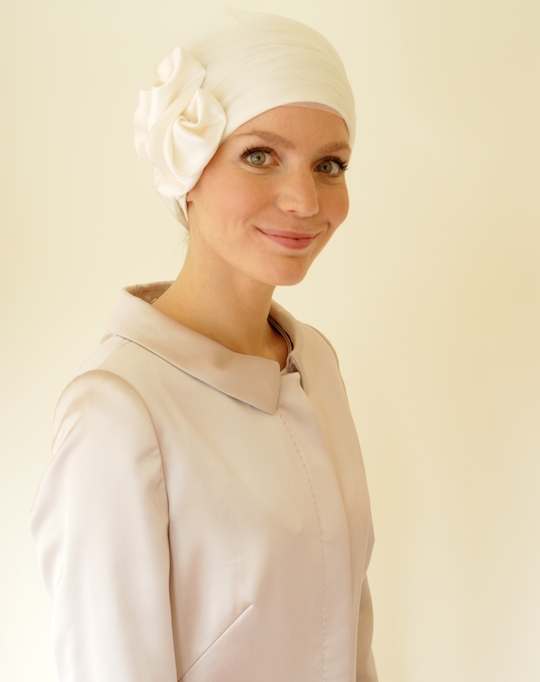 Style 2: Cream jersey turban with pearl knot detail, birdcage veil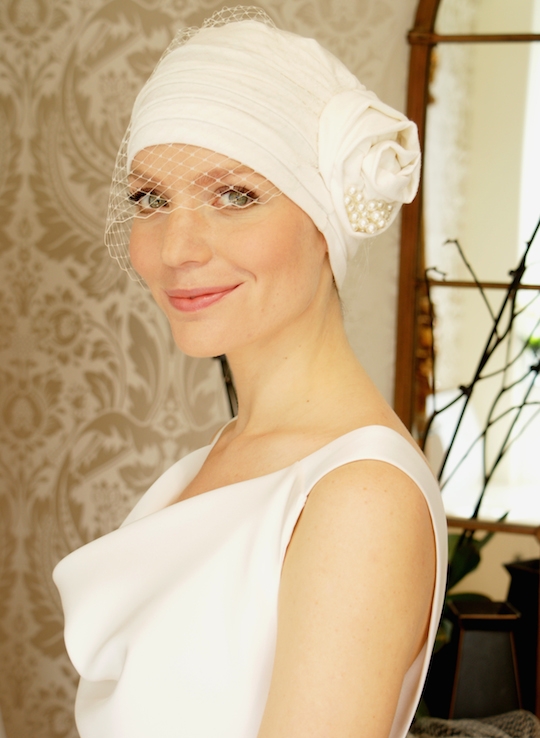 This design is pleated and draped all the way round the head. The soft jersey turban stretches to hug the head of the wearer. Jersey pleating disguises defined head shape, as does the birdcage veiling and adds soft volume to the bride's profile.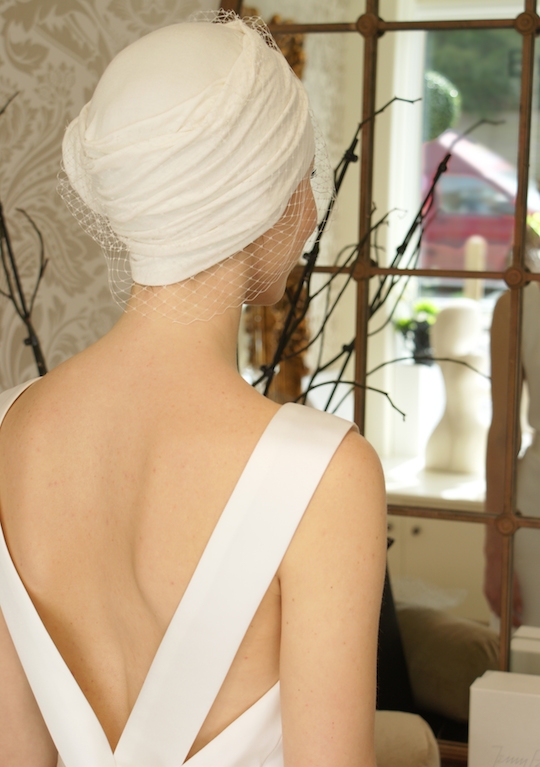 Style 3: 'Selina' in palest cream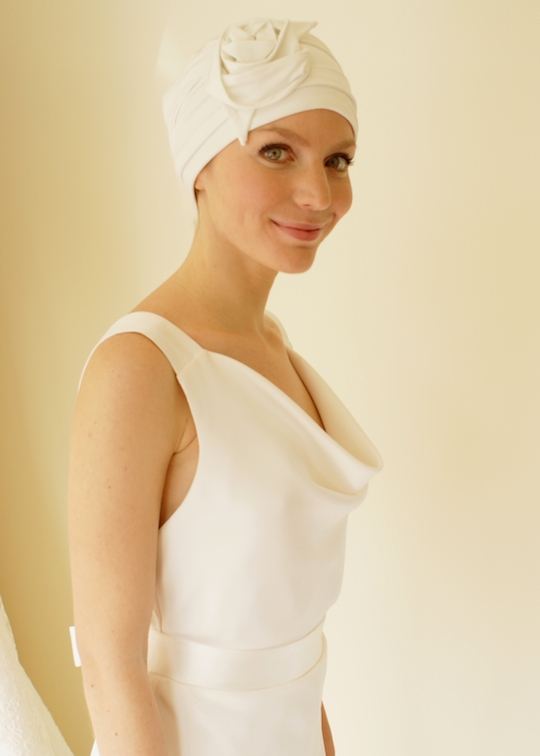 A simple draped cream jersey turban in viscose jersey, (jersey weight is slightly thicker), with self trim 'water lily'.
This is available in 2 shades of cream: a soft white/palest cream and a pale ivory (which when layered comes up slightly warmer than the first colour).
The story behind the new Suburban Turban bridal collection
The first bride we worked with back in 2010 was the lovely Carly, who kindly wrote a detailed blog piece for us about her search for headwear and the process we went through to create her own bridal headpiece.
Carly has Alopecia and wanted to feel her 'usual' self in some form of headwear on the day. And yet you will read during the course of her article even she wasn't prepared for the attention and focus this particular hat would bring her. You can read the full account, Beyond The Dress, here.
More recently we have worked with 2 brides who were getting married following cancer treatment, but their hair was still very much in the early stages of growing back.
Our bride, Nicole, didn't want to cover her head completely but she felt her head needed 'dressing' to match her beautiful fishtail wedding gown and this in turn would balance her whole silhouette as she walked in.
We designed a wide headband in silk jersey covered with silk tulle veiling, held in place with small pearls. (There was even a small face veil that could be tucked up into the headband once the ceremony was over.) This added some soft volume around her face, distracting the eye from the short 'Audrey Hepburn' crop emerging underneath. For such a simple item it had real 'WOW!' factor and crowned her day beautifully.
Meanwhile, Debbie - in her own words a 'mature' bride but one with great flair and style (!) - had found her dress and we worked with her and her dressmaker to ensure we got the colour correct and matched the 1950's style of the dress.
Debbie's bridal headpiece completely covered her head – a cream silk jersey turban, so it was super-comfortable to wear all day - completely covered in veiling and picking up on the detailing of her dress.
Style tips for brides with hair loss
• It's worth knowing there are many shades of cream. Hence the reason why we quote international thread colour ranges, so that you can assess the colour (hopefully wherever you are) by looking at a cotton reel. This has been essential when designing long-distance. We have created headwear for special occasions all over the world from Costa Rica, New Zealand, Europe and of course the UK.
• Your choice of headwear should look 'intentional'. There are a few 'tips and tricks' we use in our selection of fabrics and the draping we incorporate into the styles that make the final design look this way.
What do we mean by 'intentional'? Well, it means we are not simply looking to cover the head but to create a purposeful fashion look. Much like a mother of the bride's wedding hat which has been designed and dyed to match her outfit, the brief is no different except we are working in cream. We follow the style of the gown, and are sensitive to the sense of occasion, so that the headwear blends beautifully on the day and our brides feel super confident and comfortable.
• Style is in the balance. One tip I would offer: if you are considering a full head covering, select a slightly less ornate dress. It doesn't have to be completely plain, by any means, but a 'hat' does make a difference and your 'look' changes. Instantly, you are more dressy and dramatic.
• Get the full, overall view. Always remember to try everything on together and to look in a full length mirror!
Our new styles remember the 1920/30's and with the draped column dress designs we selected, it worked perfectly - all very Great Gatsby!
All styles can be sized to your head fitting and we recommend that you allow a 6-8 week lead time before your big event, so that our seamstresses can work with you to create your perfect bridal hat.
We would like to wish all our brides a gloriously confident day and many congratulations!
---
Sign up to our newsletter
Give us likes, follow us on Instagram, Facebook, and Pinterest.
Share with your friends