Yolanda Pang of Poetic Designs creates gorgeous jewelry for iCraft, often recycling old world inspired items with them. Her work's nostalgic, antique feel will transport you back in time when you wear it. Yolanda describes her fascinating process and inspiration in this interview for iCraft.
Please tell us a bit about yourself.
I'm a self-taught, fashion turned jewelry designer from Toronto, Canada. I have passion for art, world culture and history. I love collecting handicrafts, vintage and old objects from my travels around the world. Three years ago, after working for two decades in the clothing industry as a general manager, merchandising director and creative designer, I decided to put my passion into work by designing my own line of old world inspired home and fashion accessories. I have since been selling my work at my online shops, local craft venues, and fashion boutiques.
How did you become a seller at iCraft?
I became a seller at iCraft when I realized that there was a demand for Canadian online presence.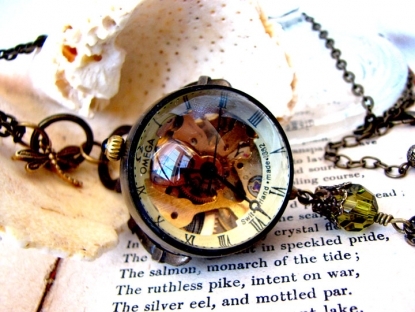 I love how you recycle old items like keys, compasses and clocks in a lot of your jewelry. This emphasizes its antique, mythical quality. What inspires your jewelry designs?
My creative process usually begins with a found object, a book, a place, a song or a movie. I like to interpret my thoughts onto my work, much like a poet delivering his vision through his words. I see myself as an artist creating stories and poetry through my jewelry. I take great pleasure to create each piece by combining vintage and old world inspired elements with a modern interpretation.
How do you find items to recycle and decide which ones to use?
I find items from antique flea markets, estate, garage sales and sometime from own collectibles. I am particularly attracted to objects that have certain patina, character, history or story.
Your creations have a vintage quality, but they are also very trendy and current. How do you bring together the old and new?
I capture the essence of old and new in my designs by leveraging my fashion and merchandising skills against the sensitivity of a contemporary woman, an artist and a collector.
Which of your pieces are you most proud and why?
The pieces I am most proud of are: Paradiso Multi Chains Necklace, Birds Nest Organic Leaf Wrap Ring, L'Ancien Amour Chandelier Prism Pendant Necklace, Steampunk Necklace and Vintage Rose Lariat because they truly represent my creative, romantic and eclectic personality .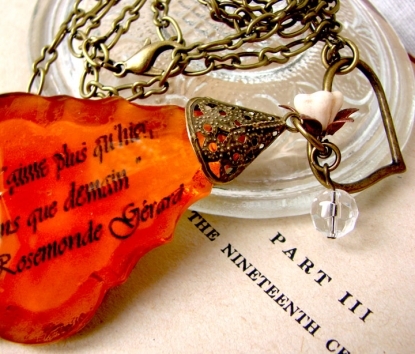 Most of your items are necklaces and chokers. Why is that?
Necklaces and chokers are the one statement accessory that is closest to your heart. They are also versatile and can update a look instantly.
There is a lot of green in your work: stones, beads, flowers. Green generally doesn't seem to be very popular in jewelry. What motivates you to use this colour so often?
I admit I'm biased with certain colours such as green, amber, black, and ivory. I like neutrals, subtle and sophisticated colours. I don't always use colours based on their popularity; in fact, I don't like to create 'trendy' jewelry. I prefer designs that evoke a certain sense of sophistication and poetic, timeless quality.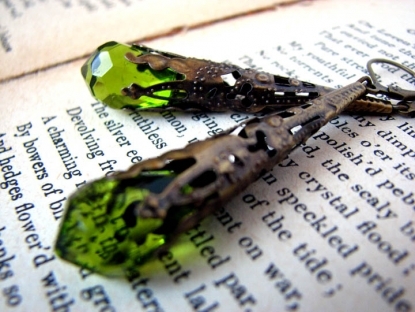 Thanks for sharing your story and your beautiful pieces, Yolanda.