Although we are heading in to the craziest selling season, the longer nights and colder days have us itching to stay cozy inside and try out some new crafts! We compiled a list of some of our favourite crafting ideas for the Christmas season. Some are quick fun ones you could complete on a free afternoon and a couple are more long term projects to work away at throughout the season!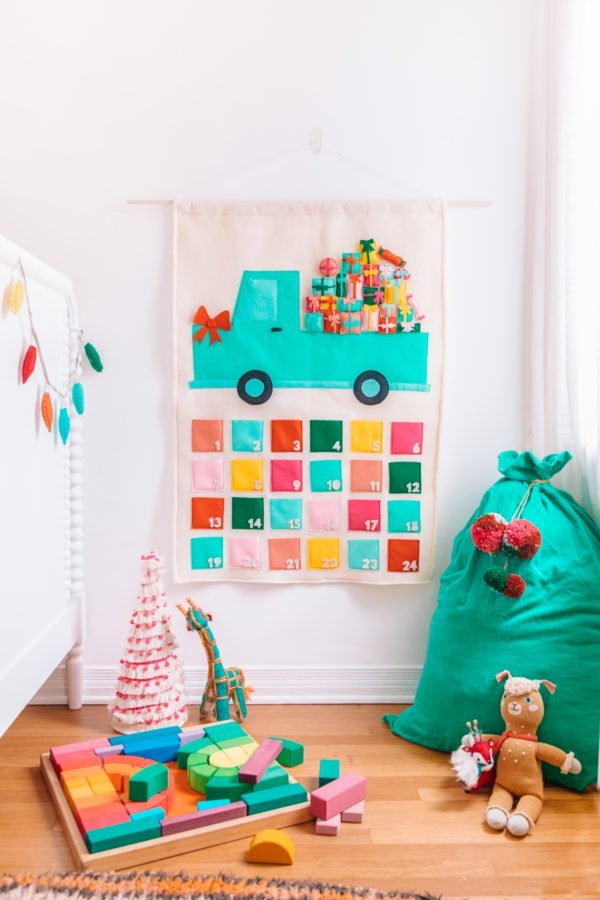 Felt Advent Calendar:
We love this handmade felt advent calendar! What a fun way to count down to the big day and it is a great way to create a special Christmas memory by taking out the same advent calendar every year. Your kids or grandkids could even take it to their house and use it with their own kids when they get older.
We also love that this is a more low waste option as you are not getting all the paper and plastic waste as you would with a store bought advent calendars.
With this tutorial there is a felt gift in each days pocket and you place the gift on to the truck, so the truck is fully loaded with gifts by Christmas time! Would also be fun to do a tree advent calendar and add an ornament to the tree and gifts underneath or even a wreath!
As an alternative you could fully assemble the truck and sew the gifts on and just put little treats in each pocket instead.
Get the tutorial by clicking here.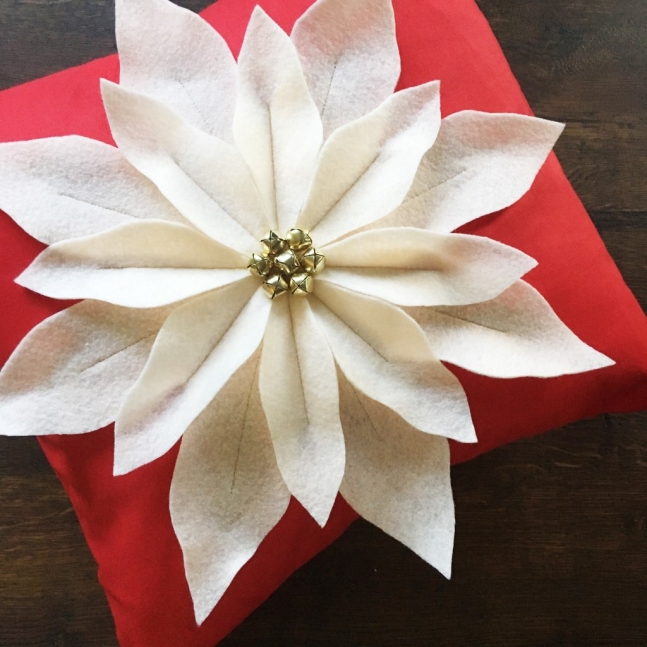 Poinsettia Pillow:
Throw pillows are an easy way to get your space feeling more seasonal but can have quite the price tag in store! That's why these poinsettia pillows would be a great craft to do as they aren't overly complicated or expensive to do and would most likely only take only a few hours to create, but are a great way to add a festive touch to your space. Which is perfect, especially if you haven't had much time to decorate during the crazy holiday season! We also love these pillows as they are a fun twist on a traditional cross stitched poinsettia pillow.
This would also be a great pillow to do in spring time, with more warmer weather flowers, to celebrate the blooms of new flowers.
You can check out the tutorial by clicking here.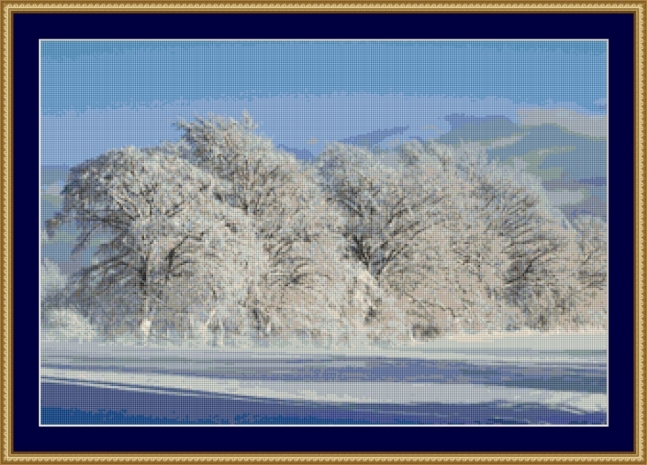 Photo from iCraft Seller Avalon Cross Stitch
Winter Scene Cross Stitch Pattern:
Here is a fun and festive cross stitch pattern to try out while sitting by the fire!
We love this wintery tree scene from iCraft seller from iCraft seller Avalon Cross Stitch.
Checkout the pattern from iCraft seller Avalon Cross Stitch by clicking here.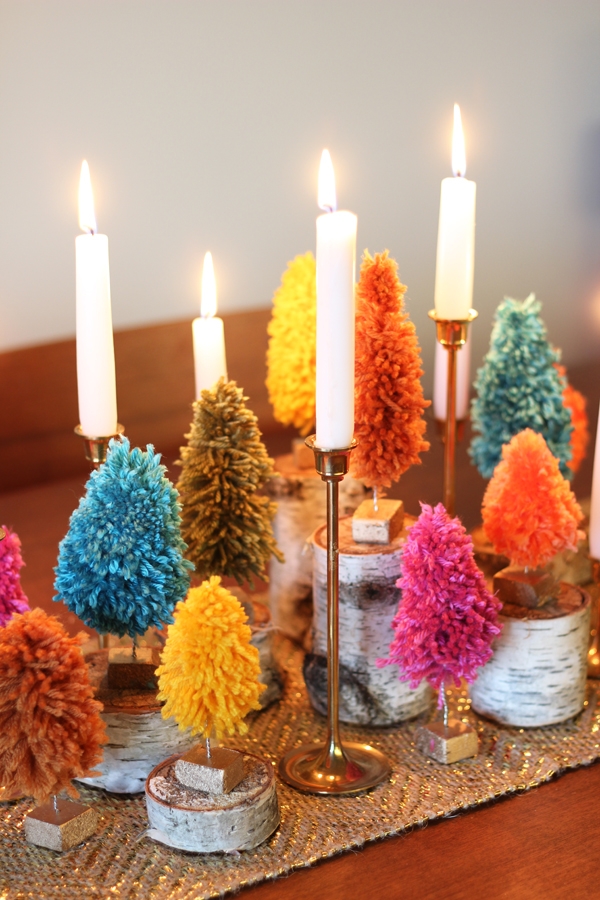 Yarn Trees:
Imagine these cute little trees in a windowsill or scattered around your Christmas dinner table with some candles for an adorable centre piece. The great thing about these trees is you can choose some really unique colour and texture options with the yarn, or just use up any left over yarn you have around the house! One idea with this craft is to do varying sizes in trees, like really tall ones and little baby ones to create some different shapes.
Follow the tutorial to make these yarn Christmas trees by clicking here.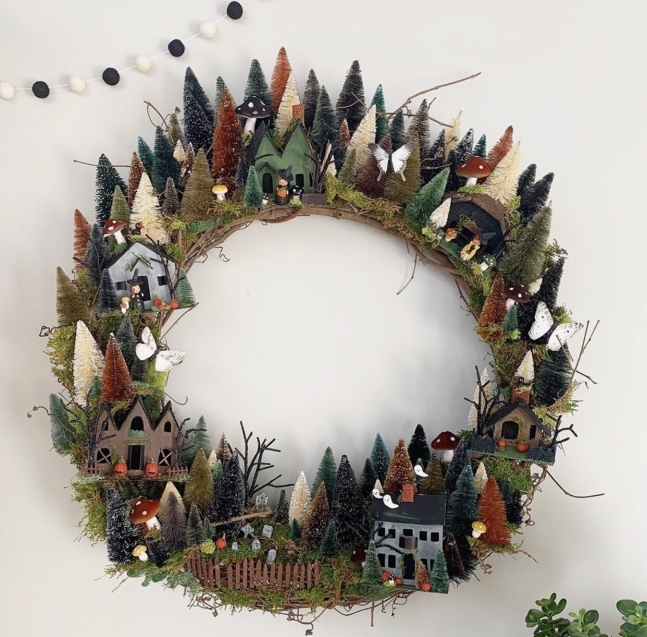 Wreath:
We are seriously obsessed with this wreath!
This specific wreath is a fall holiday themed one but imagine how cute a Christmas wreath of this style would be! Get some colourful bottle brush trees, or even the yarn trees above, to glue on to create an enchanted Christmas forest, add little plastic deer and other animals in to the forest for a cute touch or make a cute holiday town with carollers and little houses. You could even do multiple wreaths in this style and create and entire Christmas village, or scene, between them all. Let your imagination run wild with this one!
What holiday crafts are you planning to do this year? Let us know in the comments below!