The Vendor's Lifestyle: 2 Rivers Remix Market
Friday morning early……Fear tinges her awakening remembering the market at Lytton, that she still needs food - eggs, avocadoes, cranberry juice - or, maybe not……maybe she can just go with what she has…rice, oranges, rice crackers. It will be a small market in a tiny town. This is the first year…
Saturday a.m...She had the best sleep, deep and oblivious to the responsibilities of the upcoming day. Under the canopy last night, must have been midnight, she suddenly had a moment when she became aware not of what she doing (reading a novel), but of where she was, how spacious she felt sitting propped up against pillows leaning against the spare tire.
It was a lot of work to set up the tent and display her jewelry for total sales of $27. That's all she sold last night. She needs to sell more today to recover the market fees and the cost of gas from home to here. On the other hand, she is freely listening to music with a direct view of the stage where young contemporary indigenous musicians perform. Today, another set of them, more developed. She will stay to the end…
She sees the convenience of a retail space, a real physical location, the merchant's personality and goods and services offered attracting the people. As her friend, who owns a rock shop says: I have traveled the world without going anywhere. People bring things from their travels to me, to show, to sell, for me to consider buying.
She is itinerant, adapting to wherever the market is, to whatever conditions it 'throws' at her. It is so much work, packing the truck, unloading, setting up, staying and waiting, for sales, for conversations. Trying to keep her emotions still, be calm, be open, be resilient…fit in and stand out…Be patient…Allow people to approach her, discover her, come in closer and spend a few minutes. Get to 'know' her, or about her without imposing herself on them…To thrill about providing something they need or want. To be curious and learn from whoever is willing to share…
She senses her shyness and sometimes the reticence of others, especially youth…What did the two performer-singers, the guitarist say? Your work is beautiful, as if you let it draw you along…something like that…the opposite of what she'd can't be: contained, restrained, reserved, petite, hampered by the claustrophobia of standardization she sees so much of on the internet, everyone striving for a place in the sun…
Saturday night…The rain put a stop to her market booth…that having survived all gusts and squalls of wind preceding the rain…The 'windproof' displays she has made withstood its willful intent to blow everything out of its way…The rain, on the other hand, she was not prepared for. First, the drops fell dainty and delicate, tentative…It was late afternoon and she was buried in conversations. As a consequence, she has a mess to clean up…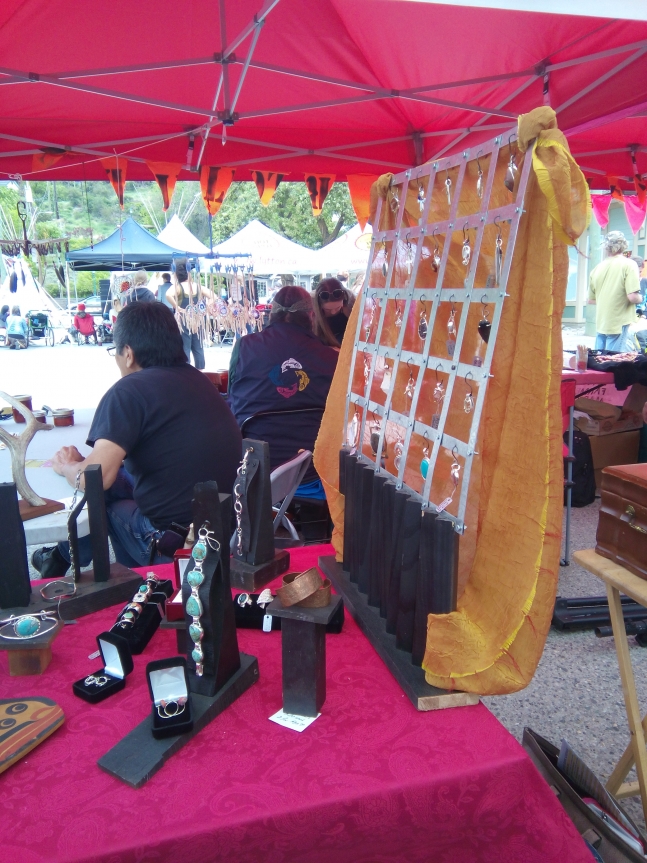 Having taken the articles of clothing, of which she sold several pieces, she discovered that she has a gift she didn't realize: She can talk to women about their beauty, their attire, their physical ornaments of expression in a way meaningful to them. She can give them pleasure about their appearance, their body, what they wear.
The clothes are wet. The tent is saturated. The bags of display articles are mud-spattered. The rings have been tried on and on…She has lots of work to 'clean-up' when she gets home, but she has money in her cashbox to finance the next journey, an abundant richness of conversations had to reflect upon, the music of the drums and the strong voices of song and poetry to strengthen her soul.