This is Ashley. Spring is just about upon us and I can already feel the warm weather coming which is always exciting for my shop! Now is the season for bikinis, tank tops, crop tops, and footless sandals. I have just added a few new pieces to my shop and I would love to share them with you all!

Crocheted Shell and Mermaid Scale Bikini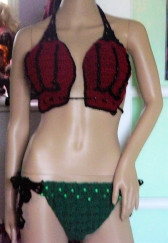 I just posted this new bikini set, and it is completely new for my upcoming summer swimsuit collection! I made it to resemble my Crocheted Mermaid Lingerie Set, but I changed the bottom so that it looked like a mermaid tail with a special mermaid/dragon scale crochet stitch (I will present this stitch in a future post for those crocheters who are interested!). I also added neon green pony beads for a colorful affect. I didn't carry the scale stitch all the way through the bottom, because this would cause the bottom to become too heavy in water and too bulky for the woman wearing it. However, after the rows of scales I resumed the pattern with a shell stitch so that there was a delicate lace effect as well. The straps for the bottom are crocheted with a fishnet design that transforms into a normal strap to give the effect that the bottom is being held by a fishnet
The top is very similar to the top in the mermaid lingerie set, but here I have used a dark maroon yarn and added black detailing with black pony beads. The detailing is meant to represent the lines of the shell, as well as adding a strong edge to the cups. The straps for the top are also crocheted with a fish net design to make it look as though the shells are being held on by this net.
I wanted to update this set into a bikini to try and add in the concept of the mermaid tail to the overall mermaid design.
This set comes lined and is great for the coming summer, vacations, honeymoons and so on! I also offer my sets in any different color combination that the customer would want.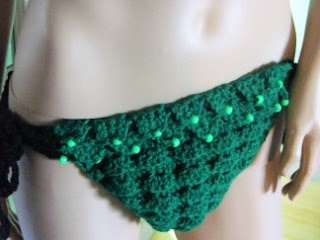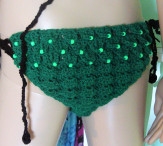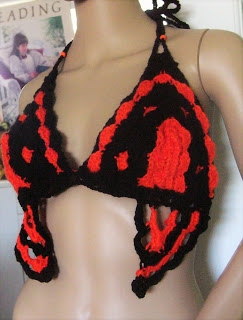 This is the second most recent piece that I have added to my shop. I decided that for this coming summer I want to experiment with a new line of crop top style tops in various lengths and styles.

Since I come from a very artistic perspective I love making my pieces works of art as they are designed after different aspects. I struggled with this top because it is of my own design and I wasn't sure that I wanted the orange to take over so much of the top. However, once it was done and on the mannequin I felt that it was just breathtaking.
For this top I used super soft orange acrylic yarn and black acrylic as well as orange pony beads. The stitches that I used for this particular piece were single and double crochet as well as a mix of both. With my pieces I generally freestyle my crochet and that is what I did here. For the cups I also incorporated a shell stitch, which is my favorite, and it gave a beautiful, elegant effect to the wing aspect of the butterfly. For the bottom half of the wings I used more a lace effect which not only made the garment elegant, but also slightly sexual.
For the straps, I used a simple chain stitch with having two chains for each side and around the neck. I also incorporated the orange pony beads into the straps so that the orange color was carried to that aspect of the top.
I made this top with the idea of it being warm to summer festivals, especially music festivals, but I also made it so that it can be worn as a bikini top for tanning or even swimming. The orange color I used is a perfect summer color and the top is light enough so that it is comfortable in the warm weather, but there is also enough coverage for modesty.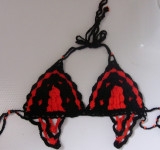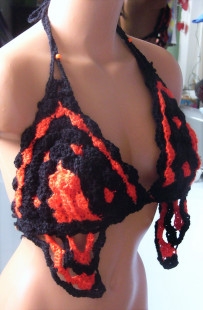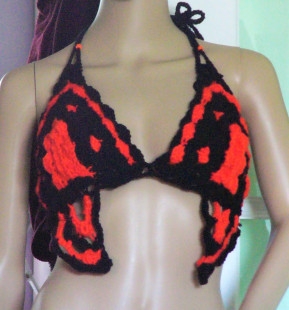 These are only two pieces that I have added to my summer line and I will adding many more! I plan to have more monokinis listed this year since I haven't made many of those in the recent months. I will also be adding many new pieces in my wedding collections, so keep an eye out for those!