Here's an easy cookie recipe that you might want to try this Christmas.
Spicy Salt and Pepper Chocolate Cookies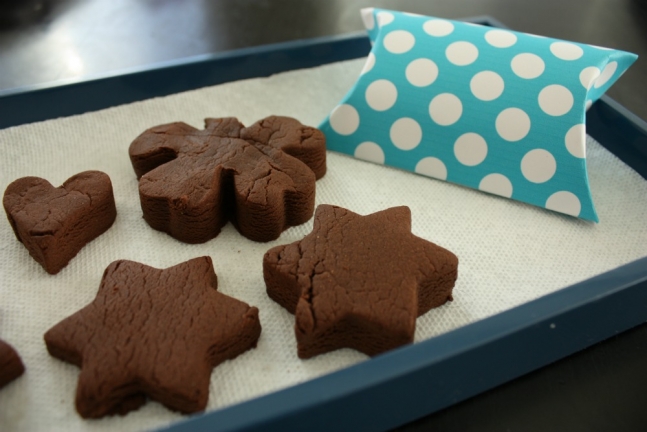 Cookie Recipe
(Adapted from Marguerite Henderson's - Small Sweet Treats )

Ingredients

1-1/2 cups unsalted butter, softened
1-1/2 cups sugar
4 large eggs
3 to 3-1/2 cups all-purpose flour
1-1/2 cups cocoa powder
1/4 teaspoon kosher salt
1/2 teaspoon ground black pepper
1 teaspoon ground cinnamon


Directions

1. I used a kitchen aid mixer to beat the butter and sugar until light yellow and fluffy for about 3 minutes. Add the eggs, one at a time, and beat for a minute.

2. In a separate bowl, mix the flour, cocoa, salt, pepper, and cinnamon. Gradually add this mixture to the butter mixture which is in the kitchen aid bowl, beating until well blended. Add the mixture slowly so that it does not spread around. Divide the dough into four portions. Wrap each section in plastic wrap. Chill for at least 1 hour.

3. On a floured board, roll out each section of dough to 1/8-inch thickness and cut into desired shapes with cookie cutters. I had flower, hearts and star shaped cookie cutters and hence I used them. Bake on the middle rack of a preheated 375-degree-F oven for 8 to 10 minutes. Cool slightly before transferring to a wire rack.

Marguerite Henderson says to use a tsp of gray sea salt before you place the cookies in the oven, but since I didn't have gray sea salt, I had to bake them without it. Nevertheless, it turned out yummmm!

Makes about five dozen cookies.

And for those who do not like it very sweet...you will love these cookies! Great to dunk it with your coffee!

Let me know if you have tried this!