Ukrainian painter Sasha Putrya was painting non-stop all her life, as if she knew it will be cut short.
She lived for 11 years, 6 of which she battled leukemia, leaving to the world over 2,300 of her unique pen drawings and watercolor paintings.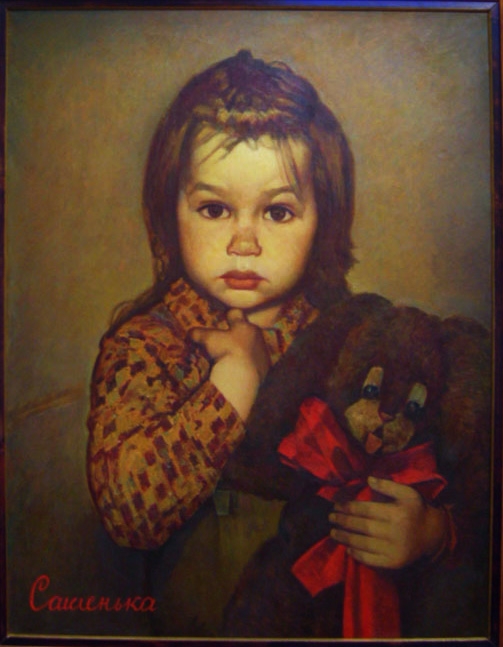 Sasha didn't study painting and, due to illness, couldn't even go to high school after attending classes for 1 year, yet somehow she managed to learn so many things on her own and to accomplished so much in her short life.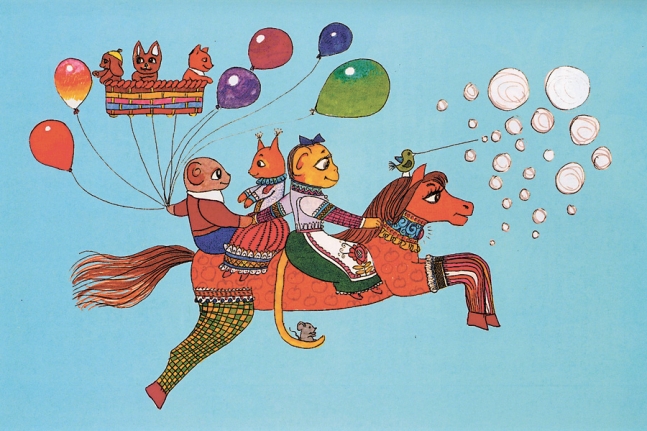 Sasha Putrya, year unknown.

She actually preferred museums to school, read hundreds of books on her own and knew hundred of songs by heart. In addition to painting, she was making greeting cards and plush toys, doing needlepoint, sewing Indian saris, working with wood, inventing mechanisms for flying to the moon and writing poetry.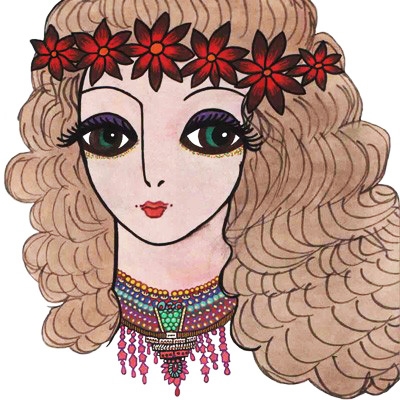 Girl with long hair, Sasha Putrya, 1988 - 10 years old.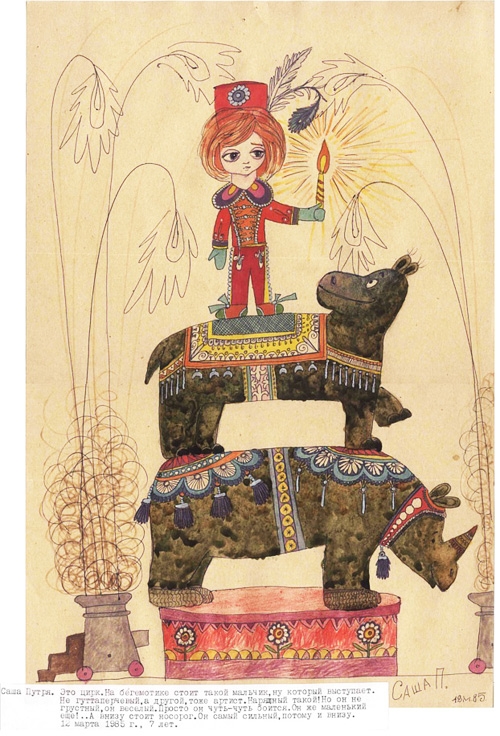 Circus, March 12, 1985 - 7 years old.

Sasha's paintings are now known in more than 50 countries worldwide. There were 112 exhibitions of her work in 10 different countries from 1989 to 2005.
| | |
| --- | --- |
| Russian girl, 1988 - 10 years old. | Prince Igor & Yaroslava, 1988 - 10 years old. |
| | |
| Indian dancer, 1988 - 10 years old. | Young Indira Gandhi, 1988 - 10 years old. |

She was also awarded (posthumously) a few prestigious awards, including the Gold medal of Christ the Savior, order of Sent Nicolas the Miracle-Worker "For increasing of good on Earth".

In her hometown, Poltava, there is now a new children's art gallery and a hall in Poltava Art Museum opened in her name.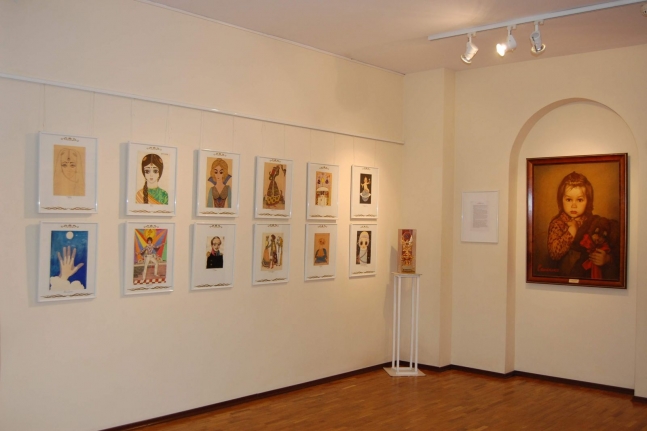 Sasha Putrya's Hall at Poltava Art Museum, Ukraine.

There are also 5 documentaries made about Sasha and her talent, as a young artist. (YouTube videos about Sasha)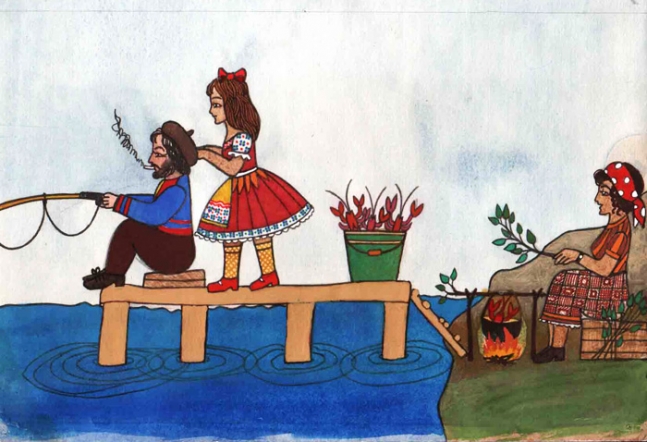 Fishing, year unknown.
| | |
| --- | --- |
| Fairytale character, 1988 - 10 years old. | Me as a baby, 1988 - 10 years old.. |

Creative Family
Sasha was born on December 2, 1977 (she'd be 37 this December) in Poltava, Ukraine into a creative family.
Her father, Yevgeny, was a professional painter and her mother, Victoria, was a musician teaching at the music school.
Sasha combined the passions of her parents in her own way. She started painting at 3 and always did that with some background music playing in the room.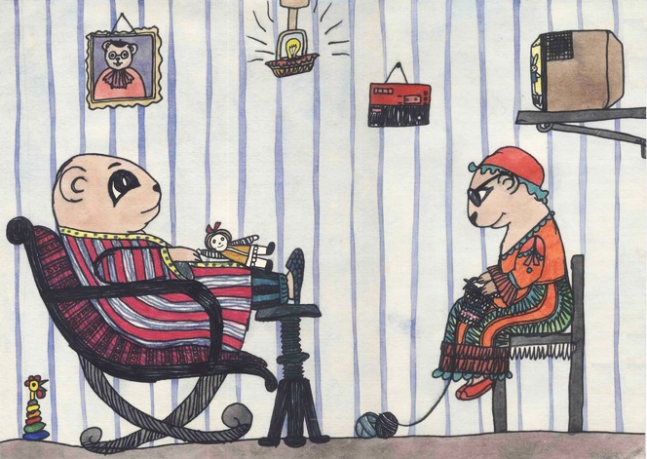 Mom and dad (humor), 1985 - 7 years old.

Sasha drawing at home (left) and holding a book on costume history (right), 1983 - 5 years old.

All walls of their small 2 bedroom apartment, doors and furniture were always covered in paint to the level where little girl could reach. She often would go to bed all covered in paint too.

"When I grow old, I'd become a painter, and paint all day long, from morning to evening... even at night," - Sasha would say to her father.

Father and daughter were especially close. Yevgeny worked from home to stay with his daughter, and the two would paint side by side in the same room all day long.

Usually, right after breakfast Sasha would come and say to her father - "I want to paint, give me paper please". When Sasha wanted to ask something, she wouldn't interrupt her father. She'd simply put a note beside him and wait until he is free to come and talk to her. Father and daughter shared many great conversations about things Sasha was curious about - astronomy, planets, UFOs, god, people, love, India.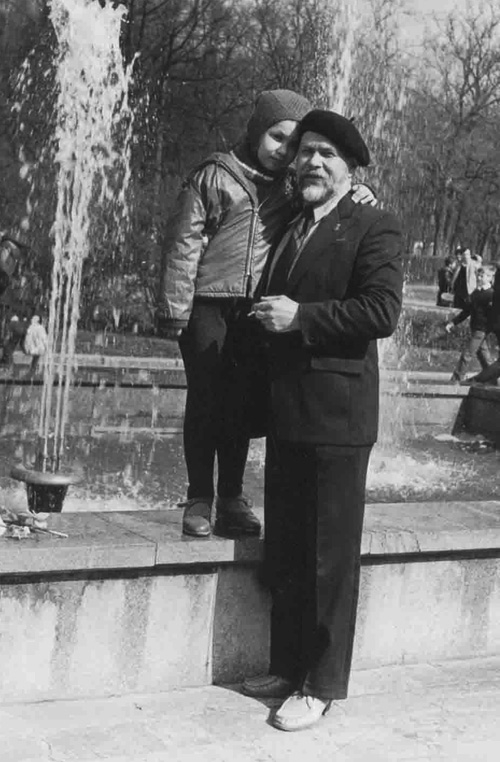 Sasha with her dad at May 1 Parade, Yevgeny Putrya, 1983 - 5 years old.
According to her father, Sasha often spent 8 to 10 hrs a day painting, even when she was sick.
Yevgeny always knew how well his daughter felt each day, based on the amount of time she spent painting. If he'd walk into the Sasha's hospital room and saw her new paintings, he wouldn't even ask his wife how Sasha was doing - he knew that she was ok today. If there were no paintings - she was having a really bad day.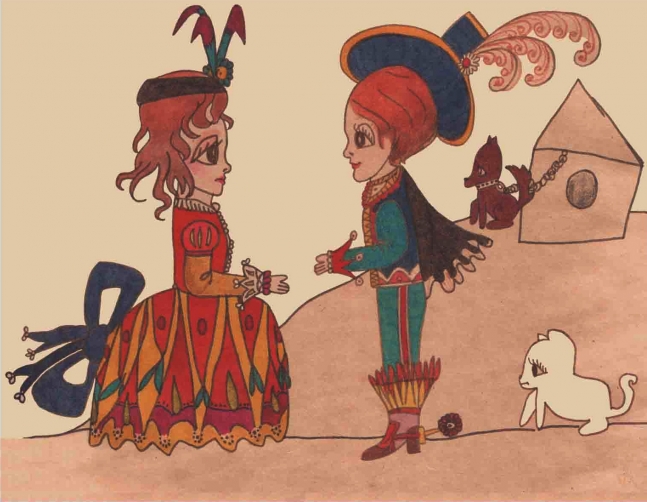 Me and cousin Victor, 1983 - 5 years old.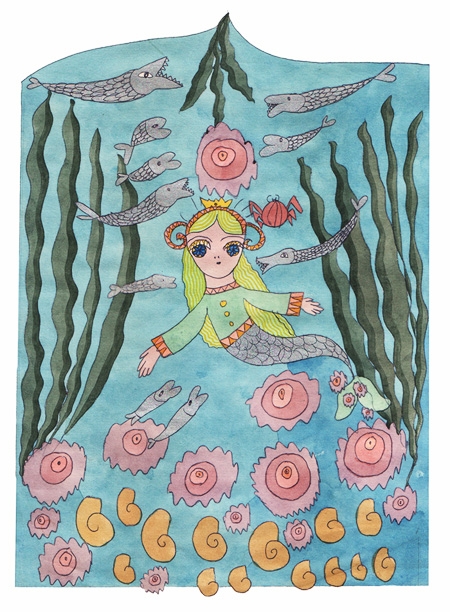 Her father recognized his daughter's talent very early, and sometimes would try to teach her how to paint. He even suggested one time she'd attend an art school.

Surprisingly, Sasha didn't want to learn from anyone. She was only interested in doing things her own way, often using bright colors and painting people from memory.
Her father didn't insist.
He'd let his daughter study works of other famous painters from their extensive family library. (Albrecht Dürer was her favorite)

Sasha also liked looking at illustrations in children's books, probably getting ideas for her own paintings.

Princess Mermaid, 1984 - 6 years old. (left)

Sasha always knew when she made a mistake in her drawing or painting. She'd stop her work and, with tears in her eyes, start over and over again, sometimes 3-4 times, until she was happy with the result.

She'd then generously give away her creations to friends and family members.
Big Heart
Sasha had almost motherly love for animals. Thinking she is protecting them from the outside world, she often painted them wrapped in a blanket, dressed in exotic clothes or elevated on a stand.
Sasha's cat Pushok, 1985 - 7 years old.




Puppy, the prince, 1984 - 6 years old.

Cat Bimka

, 1985 - 7 years old.




Baby bear, 1987 - 9 years old.

Kitty, the dancer, 1987 - 9 years old.

Gosha, pet parrot, eating, 1987 - 9 years old.





Bimka, April 27, 1987 - 9 years old.

Sasha's dog Alpha, 1987 - 9 years old.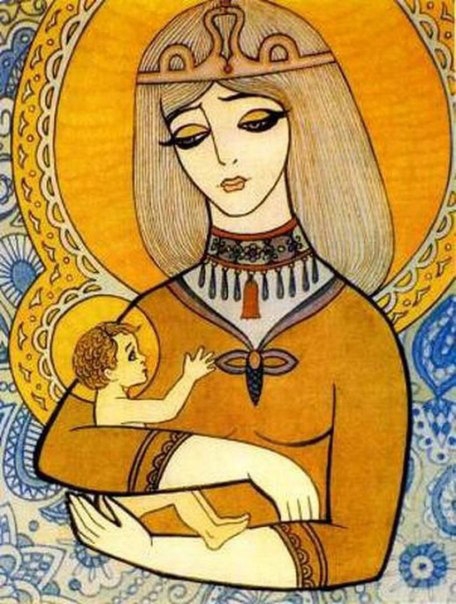 Sasha often walked with her father near inactive Pushkarivska church in Poltava. Sometimes they were hiding there from the rain.

Sasha was sad to see half-destroyed murals on the walls, hoping to restore them one day. Seeing the destructio of a beautiful church, impressionable child decided to save it.

"But what can we do?" - her father asked. "Let's write a letter to some big boss and ask him for help!" - Sasha said.
Yevgeny made photos of the church and wrote a letter detailing what was happening with the Pushkarivska church to Borys Oliynyk, head of the Ministry of Culture of the former USSR. To everyone's surprise, Mr. Oliynyk, who turned out to be a native of Poltava, found the funds needed for the restoration work.

Saint Maria, 1988 - 10 years old. (right)
Unfortunately, Sasha didn't live long enough to see the church restored, but she painted the icon of Saint Maria, for the restored Pushkarivska church.
The Illness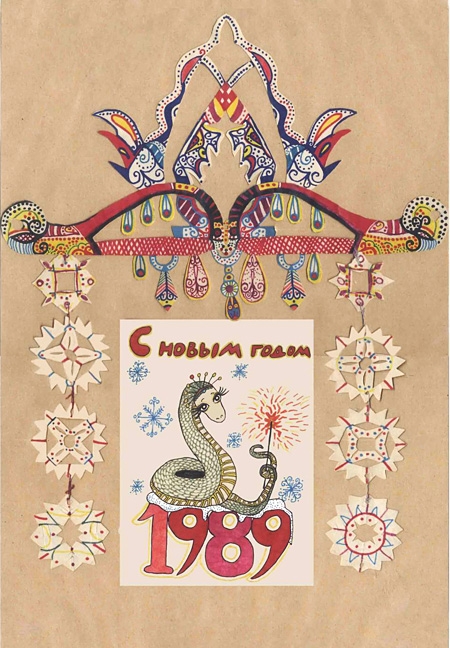 Sasha became sick at age 5. At first, nobody could diagnose her properly and she was suffering tremendously for weeks. When she was finally diagnosed with the leukemia, her white blood cells count was so high, that her doctors gave her only a couple of months to live.

Sasha lived for 6 more years.

Sasha's New Years Greeting Card, 1989 - 11 years old. (left)

While at the Children's Hospital in Poltava, she was always surrendered by kids, that were commissioning her to create a painting for them. She never turned anyone down and was painting tirelessly till the end.

Exhausted by constant injections and chemotherapy, Sasha said to her parents - "I am so tired. Please let me go. Dying is not scary. Just don't cry."

On January 22, 1989 Sasha's condition deteriorated.
As a distraction from pain, she began to paint. She asked her father to put his hand on a white piece of paper and drew an outline of his hand. Then she put her hand in the middle and drew an outline of her little hand. That became her last painting. She died 2 days later.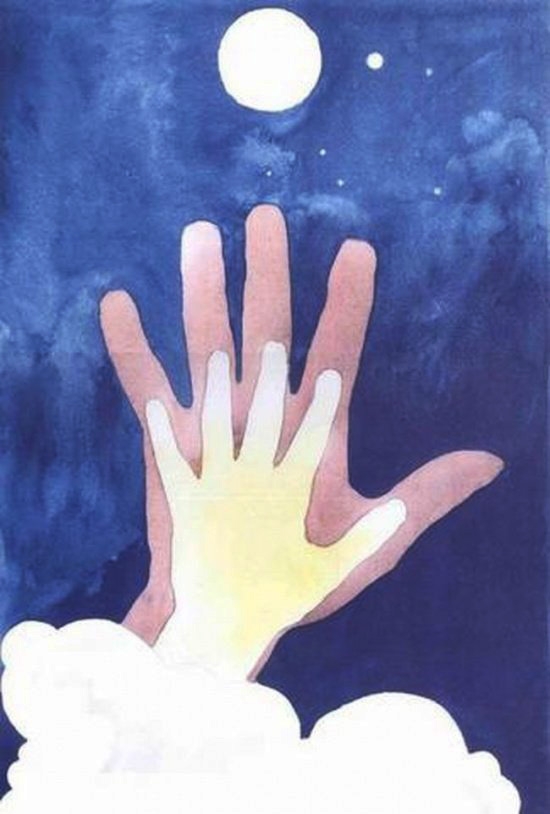 Sasha's last painting, Planet Sirius (where Sasha believed she ended up), 1989 - 11 years old.