For this instalment of our Meet the Maker series we talked to Virginia who runs the iCraft shop Jewelry By Virginia. Virginia makes stunning handmade jewelry pieces, to learn more about her journey as a crafter read our interview with her below.
Can you give us a quick summary of your business and what your role is?
I sell handmade fine jewelry. I am the designer, creator, marketer and all-around girl-Friday!
I love designing and making each piece of jewelry. If I wouldn't wear it - I won't sell it. Every modality of jewelry I use has it's own unique personality and feeling to it… Chainmaille, wire wrapping/weaving and silver smithing. Each piece of jewelry is unique and made with love and care.
I am also a Reiki Master so each stone I set is infused with Reiki energy in hopes that it finds the owner it belongs with.
What inspired you to start making jewelry?
I started making jewelry thinking that I could make myself a few things to wear while I travel for work. I started with Chainmaille jewelry as a hobby and grew to love it as I discovered all the beautiful weaves that can be used when making necklaces and bracelets.
Once into that, I discovered wire wrapping and weaving which requires so much patience and dexterity. The pieces I made were so beautiful! I came to realize that I couldn't possibly keep all the jewelry for myself so I started to (and still do) give them as gifts to family and friends.
My family and friends love what I make and encouraged me to start selling it. There are continually new things I want to learn to enhance the skills I have and keep my creative juices flowing. I hope everyone who looks at my jewelry, even if they are just "window" shopping enjoy what they see.
Do you have a favourite piece in your store right now?
My newest love is silversmithing. I love silver jewelry, and for the most part use Fine Silver in creating each piece. My favorite color is purple - I found Purple Mojave Turquoise, which is a man-made turquoise from small pieces of Kingman Turquoise, and beautiful to behold. Combine that, a faceted Amethyst stone, and voila! A stunning, yet simple combination.
I tend to like the simple settings that enhance the beauty of the stones, yet still have a feminine look to them. These are my favorites for sale right now - a pendant and bangle set made with the Purple Mojave Turquoise and Amethyst stones. The silver embellishments are Sterling silver and the rest is made with Fine Silver (.999)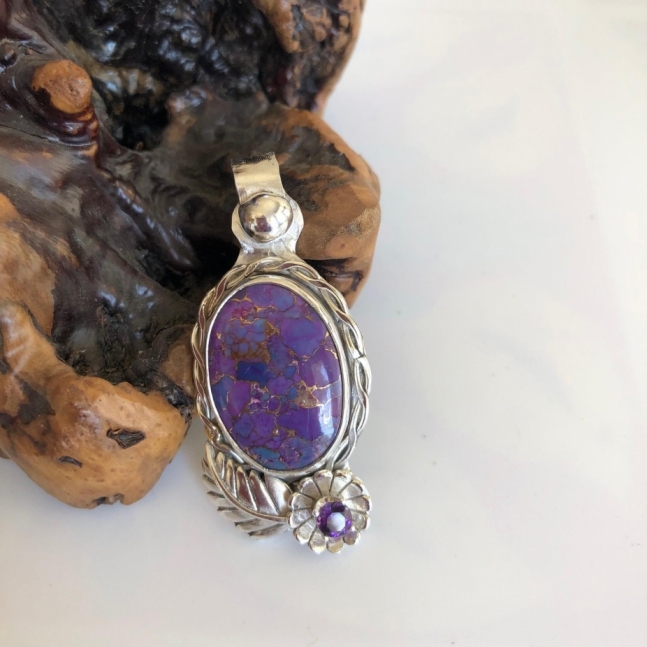 Another Of my favorites that will soon be posted for sale is a pendant made of Fine Silver (.999) with an Azurite stone. It's beautiful and dramatic! The sterling silver butterfly adds a bit of feminine whimsy. I also applied a light patina to the silver which adds to the dramatic effect and helps to highlight the colors in the stone nicely.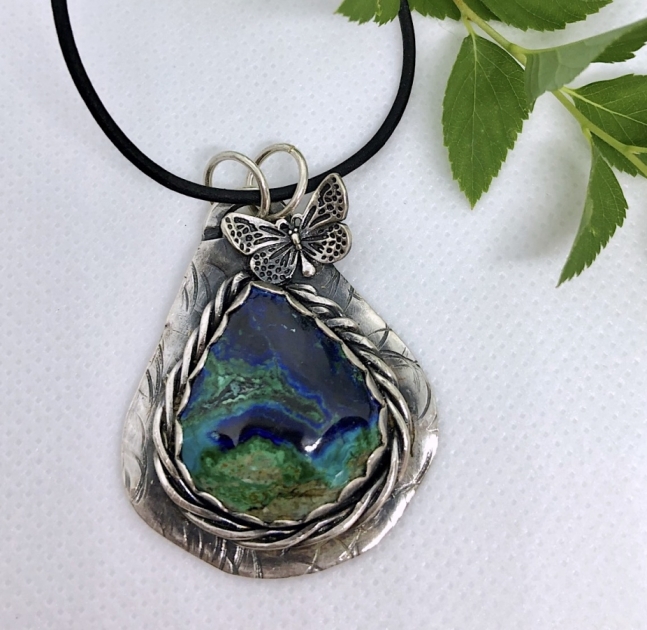 What is one tip you would give someone starting their jewelry business?
Be patient as you build up your clientele. And always remember to have fun and enjoy the process of creating beautiful art.
Everything else will eventually follow.
What is the best advice you have every received about running your business or honing your craft?
The enjoyment of the craft should come first.