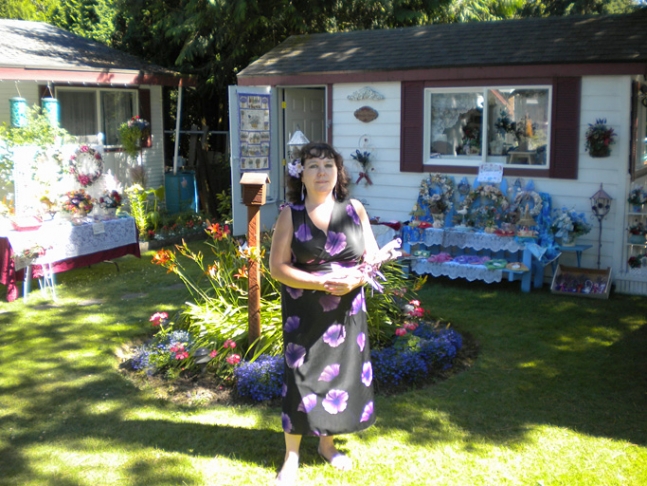 It is my pleasure to introduce you to Helen Weinar, of Helen's Charms Unique Gifts. Helen's creations are colourful and cheerful. A wonderful way to celebrate Spring!
Helen, tell us a little bit about yourself
My name is Helen Marie Weinar. I was born in the heart of Europe in a small country - Czechoslovakia. It's Czech Republic now after the split in 1990. My husband and I relocated to America 33 years ago. We have three children, all adults now, three beautiful grandchildren and twins on the way! Our two cats Fluffy and Mitch complete the family.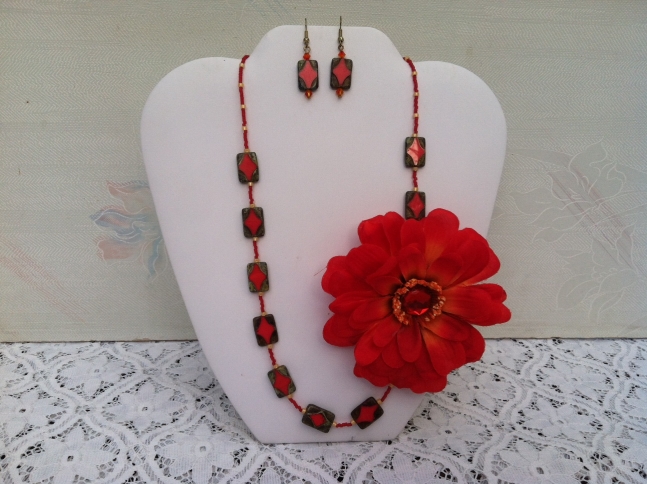 I am working part time in the Hospital, and babysitting grandchildren. I love gardening and have a passion for crafts.
I also like aromatherapy, herbs and essential oils, so I started to make hand creams, bath products, relaxing herbal eye pillows and Lavender neck wraps.
My Crafts
My crafting story began when I heard about the horrific murder of Nicole Smith Simpson. Saddened by the news, I went to the craft store, bought flowers and supply and made a beautiful wreath in her memory.
My friends and family encouraged me do my crafts on larger scale. Soon I found myself participating in Farmer's Markets and Craft Shows. Helen's Charms Unique Gifts was born.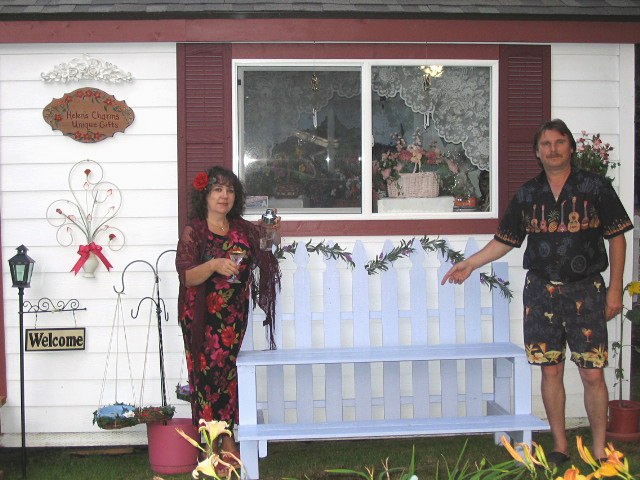 My loyal husband, always helpful and supportive, built a little studio next to our house as a show room and my little store.
I expanded my production to give my customers more choices. I started to knit and crochet scarves.
I also make fashion jewelry, using Swarovski beads, acrylic beads and Czech glass beads (that always warms my heart to see beads that traveled to USA from my home country.) I like to use unusual materials and shapes to make my designs unique.
Lavender House, above
I love to visit antique and boutique stores looking for vintage containers and vases for my arrangements.
I don't have a design degree, I taught myself from the books that I bought at craft stores and Barnes and Noble bookstore.
I absorb the beauty around me – in the nature, stores, magazines, shows. Combinations of colors or materials inspire me to make my own designs.
A few years back I got an order from Villa Cosensa, an Italian restaurant in nearby Bothell and crafted several arrangements for mantels, entry room and other places. It was fun to go there and see my wreath and arrangements.
Recently I got a Thank you note from a customer who visited New Orleans and did not see any Mardi Gras jewelry that she would like there. She found the Mardi Gras necklace and earrings in my online store at iCraft gifts that was "perfect" as she said.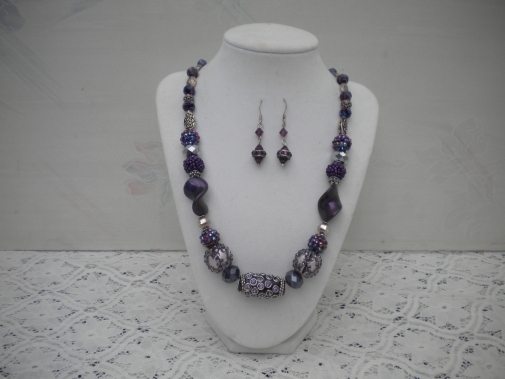 My Business
The Internet brought me to higher level. It's a great tool. We can reach millions of customers. It is fun to see how far my creations can go. From Pacific Northwest to New York and all the way to Florida.
Besides my iCraft store I have my own website, and a Facebook page.
My advice for new crafters is put your heart and soul in your work. Be yourself. Have a passion for what you do.
Helen, thanks for sharing your story with iCraft readers. All the best for future success with your lovely and original creations!