Tis the season to make sure everything is ready to go for the incoming influx of holiday sales! Here is a couple iCraft specific tips and tricks to encourage sales and make shopping just that much easier for your customers.
Shot from iCraft seller Gould Style Crochet
Collections:
Make holiday shopping easier for your customers by grouping your products in to collections! Collections appear on the left hand side of your online store, so they are one of the first things customer see when clicking on your iCraft shop.
When making collections it is suggested to group products by type or occasion.
For example if you make knit goods you could separate your collections by use.
So you could group your items in to the collections: home goods, dog goods, knit wear.
You could also separate by holidays or season, say you make felted pumpkins and handmade trick or treat bags but also felted Santas and Christmas stockings. You could do a Fall or Halloween section and a Christmas or Winter section!
A good evergreen collection idea is to always have a sale collection or a new arrivals collection as these are one of the most clicked headers in online stores.
Collections may seem like such a small thing but they really make all the difference to your customers ease of exploring your store and keeping them in your store longer!
Note there is no limit on how many collections you can have, so have fun and try out different ideas to see what works best!

Coupons:
We offer 3 types of coupons on iCraft that are completely free and included in all seller plans.
Here are the 3 different types of coupons we offer that you can try out:
Free shipping:
Everybody loves free shipping! Offering free shipping flash sales or free shipping on certain items is a great way to increase store sales.
TIP: You can select where you offer free shipping, so you don't have to offer it world wide or to all the places you ship to.
Fixed amount discounts:
We also offers fixed amount discounts Ex. $10 USD off. Please note these fixed amount discounts are always offered in your stores currency.
Percentage discounts:
We allows you to offer percentage discounts which are great to entice sales or to clear inventory of a specific product you are looking to clear out!
Note that all 3 types of discounts require you to set a minimum purchase amount. This will ensure that you stay on top of your profit margin and don't take a loss by offering sales.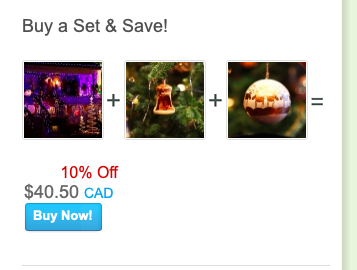 Shot from iCraft Seller Maple Leaf
Product Sets:
Have you ever used product sets on your iCraft store?
Using product sets, sellers can pair up matching products, offer additional discounts to their customers such as free shipping or 15% off of all the items in the set if they are bought together.
This encourage sales and also brings up your average order value, plus the customer gets a deal they feel great about!
This would be a great way to encourage larger sales during the holiday season as buyers are shopping for multiple people so are more likely to purchase more items on your store.
By offering a discount you are giving them just that much more of a reason to purchase more from you!
Note that you can add up to 4 products to a single set.

Store Wide Sales:
A good way to encourage purchases during the holiday season is by having a holiday sale or holiday flash sale! We offer store wide sales such as 10% off store wide or free shipping sales.
Another idea is having something on sale all times. This is because having at least one product in your shop on sale means it will always appear in iCraft sale section, which is a frequently checked section of the iCraft storefront and is displayed on the iCraft home page.
Thanks for reading iCraft family! Are you planning on using any of these techniques this holiday season? Let us know down below!