In this post, I'm reproducing the best pumpkin carving technique by craft guru Martha Stewart.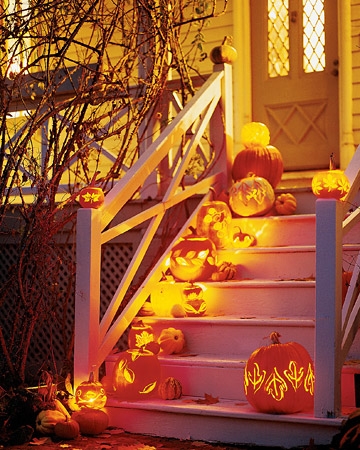 Pumpkins (above) carved using various techniques as seen on Martha Stewart's site
I really like the idea of doing fall leaves on pumpkins. It's seasonal and a fun alternative to a spooky face and definitely gives a fresh look on pumpkins carving.
For the leaf shapes, the project recommends that you use fallen leaves in your neighbourhood. Could be fun to compare leaf-carved pumpkins across the Globe!
Create the fall leaf pumpkin (3 steps):
Step 1. Cut a hole in the pumpkin's top or bottom, and scoop out the insides. Tape leaves to pumpkin and trace around each with a grease pencil; remove leaves.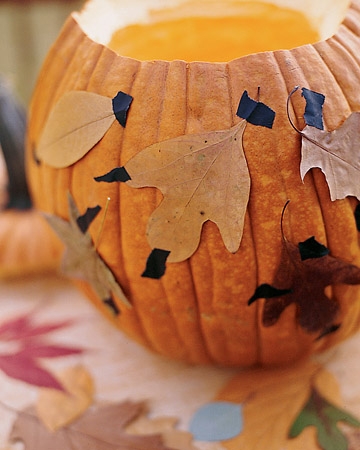 Step 2. Instead of cutting out the entire leaf shape, use a linoneum cutter (pictured below) with a narrow blade to peel away the rind and expose the flesh, producing decorative motifs or realistic "veins."
(A sharp grapefruit spoon might also do the trick ;))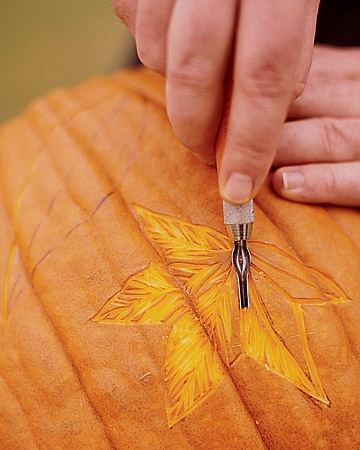 Step 3. Alternatively, cut out the entire leaf shape. Using a long miniature saw, cut out part of the leaf to make thin details, such as veins. Reposition the embellished leaf, letting it protrude slightly.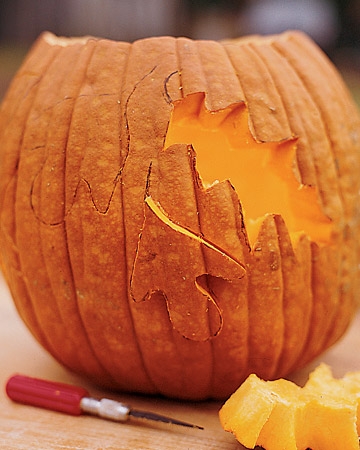 This year I'm going to try my hand at the pumpkin skin 'scratching' technique as well as the regular cut-out version.
Do not miss any seasonal home decor ideas.