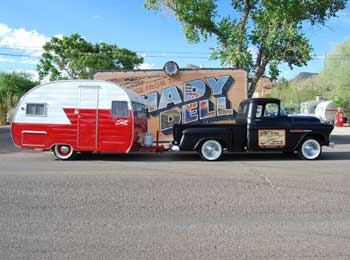 Most of us would probably balk at the idea of booking a night in a trailer park by choice, such is the connotation of "trailer parks" in the United States, but The Shady Dell is different. In this case, it's the cool end of retro that's being highlighted.
This 1950s-inspired trailer park has nine aluminum trailers (all renovated as period pieces) that you can book decor nods include LPs and record players, tiki bars, and black and white televisions, and there's a 1950s diner on the property, too.
Nine lovely, fully restored vintage aluminum travel trailers await you at the Shady Dell in Bisbee, Arizona.

Whether it is the 33 foot Royal Mansion built in 1951 and restored with leopard carpet, martini glasses, Diner-style breakfast booth and phonograph with a collection of 78rpm records, or the 1947 Tiki Bus Polynesian Palace, complete with hand-carved outrigger bar and your own Tiki God, the Shady Dell's individual trailers will surely send you back to a time when freedom was just another word for jumping in your aluminum house on wheels, finding the Rat Pack on the radio and navigating the open road in search of your own slice of the American Dream.
A sleek collection of vintage travel trailers are all perfectly restored to combine mid-century Americana kitsch with the comforts of home in a way that only the 1950s were capable of. Each trailer, such as the 1949 Airstream, or the 1950 Spartan Manor, are available for overnight or weekly rental. For once, experience the 1950s in full Technicolor.
Interiors are the rich blonde woods or highly polished aluminum of the original and authentic décor. Outside each trailer is a grassy yard with lounge chairs so you can enjoy the beautiful evening weather of southern Arizona. In the various trailers, vintage radios play era-appropriate radio programs, televisions only broadcast in two colors, period books and magazines allow for even more mental time travel and big band, early rhythm and blues and original rock and roll are available for your listening entertainment. The trailers are also equipped with original working kitchens, refrigerators and vintage electric percolators. Dishes and linens are also furnished.
Nestled perfectly among the aluminum trailers and within walking distance from each front door, is Dot's Diner. Built in the 1950s by the pride of Wichita Kansas, The Valentine Manufacturing Company, this authentic diner was originally purchased by John Hart in 1957 and delivered to the corner of Ventura and Topanga Canyon Boulevard in Los Angeles. It was run by Dot Bozeman, chief cook and bottle washer until 1999.
The Shady Dell's long and epic journey began in 1927 as a place to provide trailer and camping spaces to weary travelers along the famous Highway 80, which stretched from Savannah, Georgia to San Diego, California. Like its more famous brother Route 66, Highway 80 was a center of travel, exploration and family getaways in the early portions of the 20th century. Today, the park is a nice mix of practicality and vintage fun-seeking. Part of the park is equipped with full RV hookups while the other part is a unique step back to the heyday of travel trailering in America.
Step off the premises and experience the beauty and charm of Bisbee, Arizona, a mile-high historic copper mining town nestled in the Mule Mountains and a stone's throw from the Mexican border. Founded in 1880, Bisbee was a true hot spot around the turn of the century, known as one of the West's most roaring towns on the route between St. Louis and San Francisco.
Today, Bisbee is captivating and full of historic buildings, museums, art galleries, antique shops, hidden walkways and plenty of ghosts. Its close proximity to the Chiricahua National Forest, Cochise Stronghold, and the Ramsey Canyon Nature Conservancy provides numerous opportunities for bird watching, rock hunting, biking, hiking or just leisurely explorations of the wonders of southern Arizona's high desert area.

Photo Credit: www.theshadydell.com