Now, I have to admit, I love all shades of blue and blue-greens! Being Piscean, how can I not? I even like the look of sea glass. Sea glass looks like the deep blue depths have undone the workings of man to revert cut glass back to a more natural state.

My medium is paper. For the Water challenge of the 5 part Elements Creator challenge, didn't want to make another creature even though I do plan on making a paper die cut turtle and I do already have a paper die cut fish design. Animals are my favourite paper die cuts to design, but I already had something in mind for this challenge. You see, I fell in love with this wave paper from Kaiser Craft (seen on the "Ship of Dreams" bookmark card in my shop). I wanted to use this paper again for the water challenge! I just got new goodies and had to give them whirl too!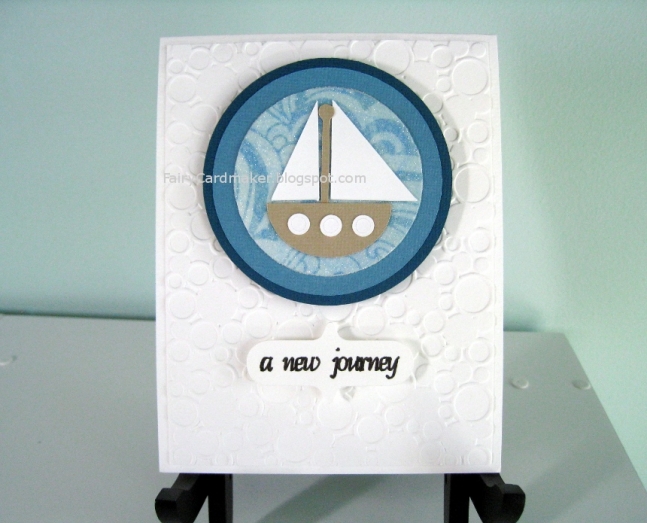 On this sailboat card, I used a new embossing pattern and a new glitter. The embossed bubbles are just so fun! I didn't expect it to turn out quite as elegant but more whimsical. I do find, though, that embossing on white just has the effect of up-scaling everything to a slightly more elegant level. I also added clear glitter to the wave paper to make it sparkle without blocking it out too much. (Honestly, I think this paper looks good sparkled or not!)
I knew I wanted to use this paper, but I didn't know what the purpose of the card design would be until I did it. "A new journey" is wide open. This sailboat card could serve as a baby shower card for a baby boy, or a milestone card like going on a big vacation, going to University or retirement! Doesn't everyone want to own a sailboat and live without borders when they retire? (Okay, not me.)
Nautical imagery and colours are sneaking their way back in to spotlight. As simple as it is, water is a powerful image: it is one of two purifiers (the other being fire), it is at once malleable and solid (if you tried to dive out of an airplane in to the ocean, it would feel pretty solid!), and it has an enormous capacity to absorb/dissolve. Even though water is something so simple, it continues to conceal the secrets of its greatest depths from us. Although we can pass right through it on the surface, the depths have a crushing power like no other.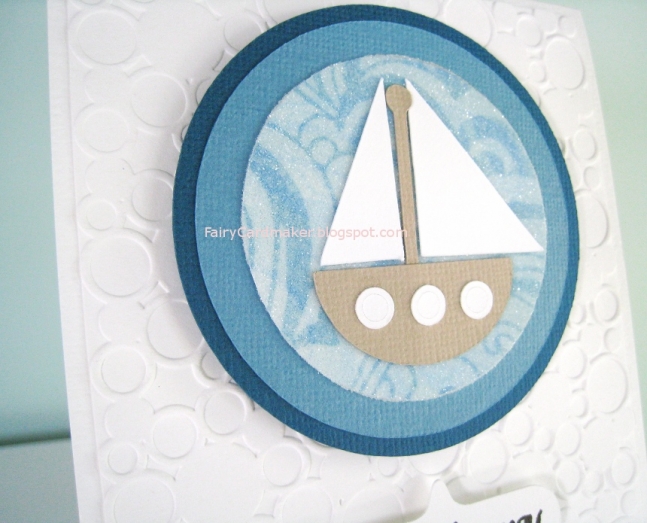 To me, the image of sailing to wherever the wind will take you is synonymous with the power to dream, the will to take chances, and the courage to face the unknown. I can only hope that many new journeys await us all in our lives!